Second part of our incredible Southern Thailand Road Trip, Phuket, Phang Nga and Krabi, May 2022
Having given up on the Cheow Lan Lake and inclement weather forecast, we decided to head for Phuket – talk about chalk and cheese!
You either love or hate Phuket and I am still not sure where I stand. The island does have some really beautiful beaches and there is some charm amongst the crass commercialism, if you can find it! We did explore most of the island and were most impressed with Rawai Beach and Phuket Old Town. Rawai has a laid-back, relaxed atmosphere and a lovely beach with some excellent eateries and 'character' cafés. Phuket Old Town is the absolute opposite of the rest of the Island. The Chino-Portuguese architecture has survived and old, established businesses are side-by-side with modern, chic boutiques and trendy coffee shops.
Phuket is the only place that we visited that is open for normal business. It is the first time that we have experienced crowds of foreign tourists and can see that this brings out some of the worst of commercialism. Almost every meter there is someone trying to sell you a taxi, a boat trip or a ping-pong show. If I am looking for a taxi, I can spot one close by and I do not need to be shouted at from across the street! Please also appreciate that some people do not want a commercial boat trip on an overcrowded and noisy speed boat, we would prefer to make our own arrangements (more about this later), and we could still not understand the Thai love affair with Ping-Pong!
We did meet some lovely people, but maybe it was the shock of seeing so many tourists and once again being enveloped in the commercialism that it produces, that my opinion of Phuket has currently, not improved.
Escaping Phuket over the Sarasin Bridge we were generally heading for Krabi and a search for coffee, discovered the lovable Tree Cups Café located above the ground in a remarkable tree. Whilst enjoying our espresso from the branches we just could see over to some of the enormous limestone karst formations that the Phang Nga area is so famous for.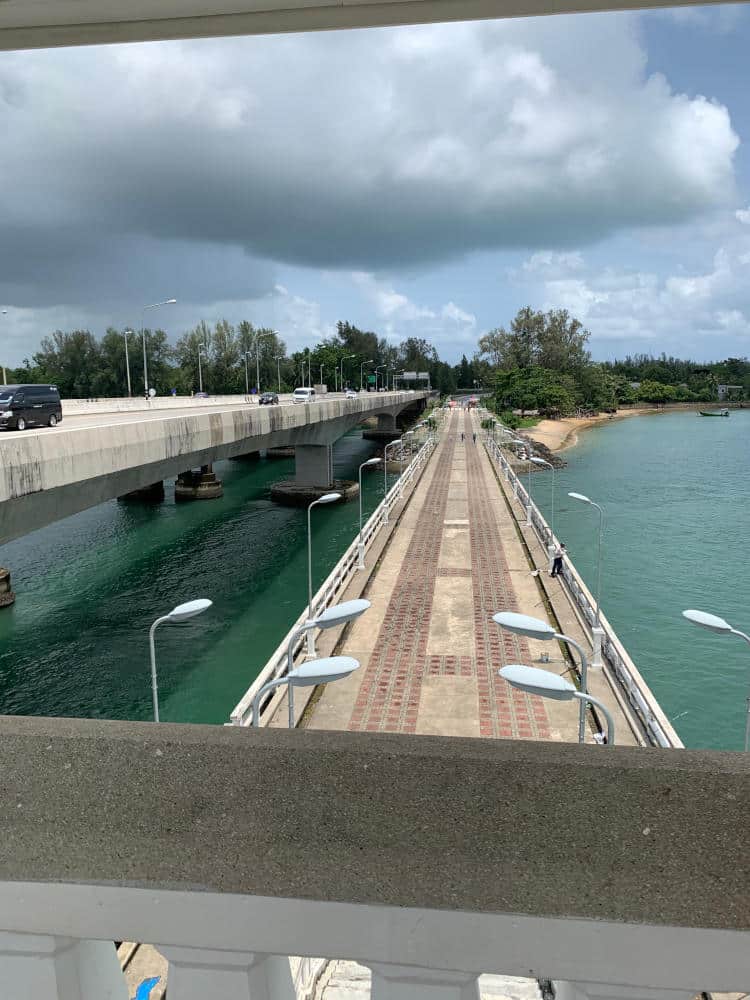 With the GPS now fixed on the Samet Nangshe Viewpoint we were rewarded with a lovely drive through small communities and rather suddenly, arrived! We had to park the car, pay THB.80 and were then taken up by a 4wd pickup to the viewpoint. Our arrival coincided with a rain storm so we took 'shelter' and late lunch in the little restaurant. Once the rain passed, we were able to start to appreciate the incredible majesty of Phang Nga!
Due to poor planning we stayed one night in the town of Phang Nga as other accommodation is limited. We did find and enjoy a very comfortable night in the delightful and newly constructed Baan Kamana Guesthouse.
As this area is just so magnificent I have written a separate article; "Exploring the incredible beauty of Phang Nga by traditional long-tail boat" which you can read here…..
After our amazing long-tail boat tour of Phang Na we resumed our journey and followed Route 4 towards Krabi. Again, a most spectacular drive through the lush and fertile countryside that was so often overshadowed by these magnificent limestone outcrops.
Krabi old town has a lot to explore and deserves a return visit. We stayed at the comfortable Krabi River Hotel. It is worth the little extra to have a river view and be fascinated by the views over the river. It is lovely to walk along the embankment and there are many food stalls and small restaurants.
Our first endeavour the next morning was to visit Wat Tham Suea temple also known as the Tiger Cave Temple which is a revered meditation centre with significant archaeological and historical importance. The highlight of the temple is the outlook which is 309 meters above the entrance area. There are 1260 steps and, as a word of warning, many are not of equal heights and uneven creating quite a challenge. We did not make it far! Evidently the view at the top is spectacular with a 360 degree view over Krabi, The Andaman Sea and the islands.
We drove out of Krabi to find the lovely small community of Nong Thale. Whilst boasting some up-market hotels including the impressive Sofitel it is generally a very small, laid-back community directly on Klong Muang beach. I had attended a conference at the lovely The Elements Resort (read review) some years ago, and have fond memories of a deserted beach with 2-3 bars and restaurants on the beach. Sadly, the rustic Jamaica Bar & Restaurant did not survive Covid and is a ruin, however the down-to-earth Reua Thong Restaurant remains directly on the beach.
It is a relatively small beach and extremely photogenic with overhanging trees, an abandoned long-tail boat and the lovely un-inhabited island of Koh Kwang. Used by long tail boats as a safe harbour, it is possible to walk out to the island when the tide recedes. A fascinating small feature is the deciduous tree that appears to grow out of the salt water. This is also the location of the delightful Beyond Resort Krabi.
We overnighted at the very charming Viangviman Luxury Resort which enjoys a quiet, rural location. Beautifully constructed of teak, the chalets are traditional, tastefully furnished and comfortable with all amenities. The resort offers two large villas with private pools and I could imagine that these could prove to be quite noisy when occupied by families or small groups.
We had avoided Ao Nang so far, but now it was time to have a look. It is a mass tourism resort that enjoys a laid-back atmosphere with the normal plethora of bars, restaurants (offering every type of food from the same kitchen), and souvenir stands. For many this may be the Thai dream that they are looking for, but for me, it has sadly become very unoriginal.
Ao Nang beach is a lovely beach with views over to the islands and is naturally popular with longtail boat excursions. Walking through the town every 3rd shop is selling boat trips but nothing like as pushy as we had experienced in Phuket. At the end of Ao Nang beach is the main departure point for boats to the islands and further destinations. It is also where you will find Hatnoppharatthara Beach which is a lovely walk around the headland on a sandy beach. At low tide, sandy islands appear and you can walk out to the nearby rocks. We did also discover the charming Baan Ton Mai treehouse cafe, which is well worth a visit.
Through local acquaintances we did relent and take a traditional long tail boat trip and you can read my full report Ao Nang Bat Trip here….
We decided to give Ao Nang a try for one night and stayed in the Vacation Village Phra Nang Inn. This must be one of the original hotels here and enjoys a prime position on the beach. It is an older hotel but comfortable, has full facilities and we even booked an additional night!
All Road Trips must come to an end and as the West/South of Thailand is relatively narrow we had little choice but to start to retrace our route north. The first part of the journey was a pleasant surprise on the glorious Route 44, a relatively new road that is mostly in a straight line through extensive Palm Oil plantations. We will leave Surat Thani until our next visit and with a brief overnight stay on the beach near Prachuap Kiri Kahn we returned to Pattaya through Bangkok.
We were on the road for 16 days, covered a distance of 3,260 kms, took hundreds of pictures and filled our eyes and souls with so much more of the beauty of Amazing Thailand.
Thank you for reading!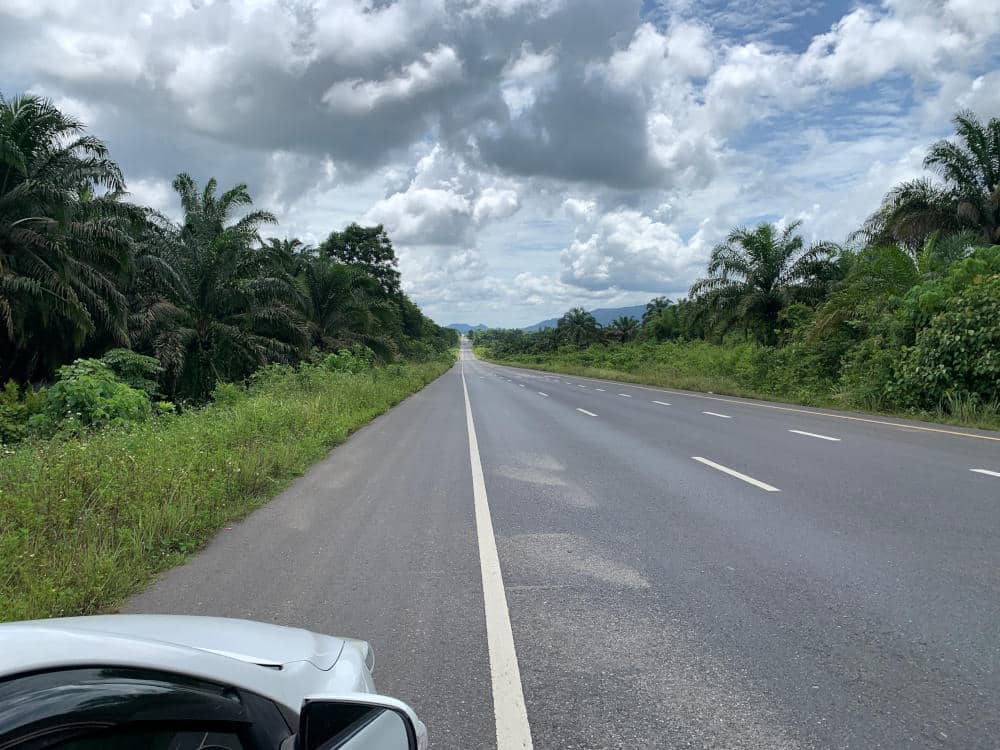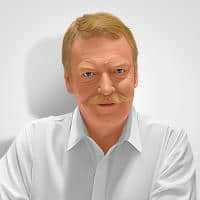 Kim Waddoup
Founder
Kim Waddoup enjoyed a lifetime in the tourism business and is an active 'Silver-Ager" living in Thailand. He writes for his age group with high varied articles covering subjects relevant to retirees living in, or visiting Thailand. Any questions or comments on this post? Please do feel free to contact me through our 'Contact Form' or directly [email protected]