Pattaya is blessed with a number of exceptional, long-established restaurants and making a challenge to be included in the Top 10, is a bold task that will depend on many factors. Take a comfortable restaurant, improve the comfort of the interior, create a wine list second to none and on top of that invite one of Pattaya's Celebrity chefs to oversee the kitchen and you have a recipe for success. This is exactly what has happened since the new management took over Pepper & Salt in 2020.
The Private Chef's Table last night at Pepper & Salt, again attracted gourmands and culinary aficionados from wide and far, to a special dinner of such quality and such diversely paired wines, rarely found in the Pattaya region.
Welcomed by the sumptuous Pepper & Salt Canapés and the house "Hair of the Dog" welcome drink, guests mingled and renewed acquaintances before being asked to take their seats for the feast to begin.
On this occasion the Private Chef's Table at Pepper & Salt, commenced with Spicy Shrimps on a Bed of Marinated Avocado & Cucumbers, Mexican Style with Basil and Chili Oil. Artistically presented on the plate, 2 plump spicy shrimps delicately placed on the bed of avocado & cucumber lightly mashed with the pre-requisite chopped red onions. A tad salty, the basil flavour was somewhat lost with the beautifully infused and spicy shrimp chili oil. A delightful dish pleasing to the eye and complex in its flavours.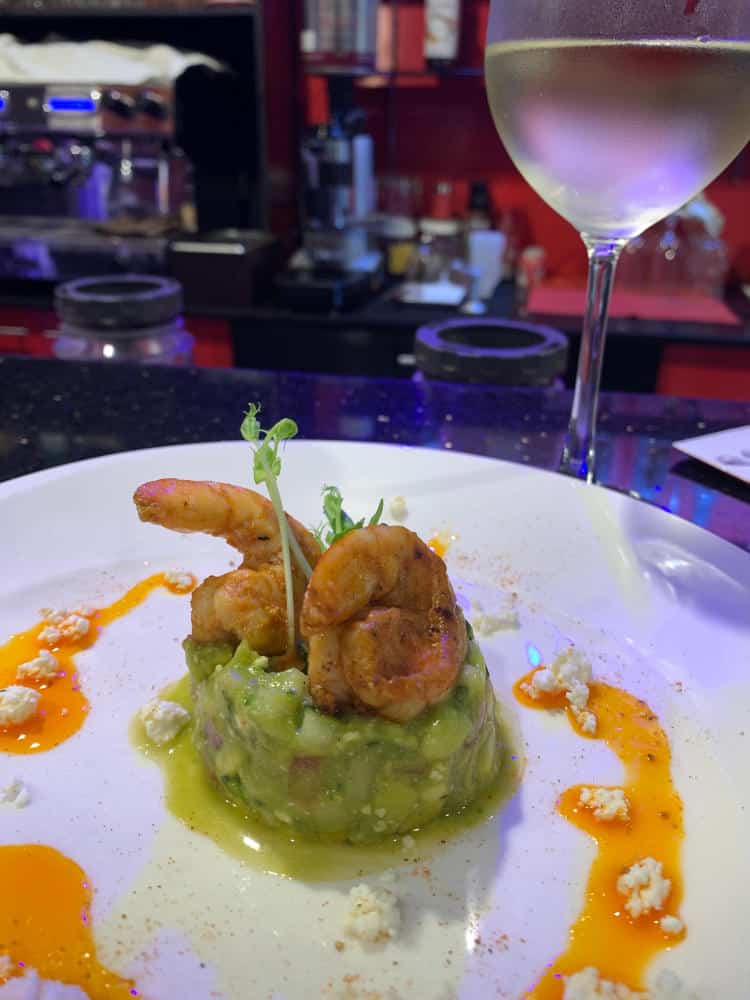 Paired with a Reichsgraf von Kesselstadt Sommerpalais Riesling, this energetic wine paid full tribute to the vineyards on the banks of the Mosel valley with a superb 100% Riesling that rather than a typical Riesling gasoline aroma (TDN), enjoyed a pleasing bright yellow colour with full fruit aromas of honeydew melon, passion fruit and mango on the nose. Excellent minerality with a subtle note of slate, this vivacious wine was crisp, fresh yet dry. Superb Riesling and excellent pairing with the spicy shrimp.
Celebrity Chef Fredi at Pepper & Salt, is a master of exquisite and unusual soups and the Carrot & Ginger Miso Soup with crispy Kurobuta Pork again provided a wild variety of flavours. The ginger dominated whilst the Miso provided a saltiness that was complemented by the seasoned seaweed flakes. The Kurobota Pork (Berkshire Black Pig) was an additional element of intense flavour further enhancing Chef Fredi's reputation for amazing soups!
Paired with a Maison Charton et Trebuchet, Bougogne Chardonnay that combined, proved to be an excellent choice. Whilst initially confused on the palate with the liveliness of the previous wine, the Chardonnay won over the dish with its smooth finish. Clear light in colour, richly aromatic with aromas of orange, blossom and dried fruits. Fresh, fruity and delicate with a roundness from the oak aging enhancing the toasty brioche nuances in the finish.
There followed a most creative Potato Gnocchi & Caramelised Braised Mushrooms in Red Wine Sauce, Bacon, Thyme, Garlic and Leek, topped with Parmesan and Parsley. The caramelised mushrooms were superb, bursting with the strong flavour of the red wine sauce with hint of herbs and salty bacon. The Gnocchi were a brave attempt, slightly coarse and a strong potato flavour that absorbed the sensational red wine sauce. Just lacking the traditional lines of the fork prevalent on hand-made gnocchi! Exceptional strong flavours requiring a carefully considered pairing.
Austria may not be the high on one's list, but it is in fact the 17th largest with several grape varieties not often found outside the country. It was therefore with great interest that we sampled the Peter Schweiger Zweigelt. This 100% Zweigelt is grown in Zöbing in Kamptal. An enticing dark ruby in colour with a nose of cherry and cherry fruits, it is amazingly vibrant and full of sophisticated gloss. Pepper & Salt is growing a reputation for introducing lesser-known grape varieties and this was a great example. Some loved the delicate vibrancy whilst others were more reserved in their praise. Still an excellent choice and yet another grape in our databank!
Our palates were then offered a slight respite with the Red Wine & Water-Melon Sorbet. Sorbets are often just the ubiquitous flavoured iced water but this creation was superb in it's simplicity providing an elegantly flavoured respite to our palates. So delicate in the flavouring and yet so effective. Superb!
With anticipation the guests awaited the Australian Lamb Fillet in Wirsing Cabbage & Veal Farce served with Garlic Mash., Red Wine-Rosemary Sauce Pepper & Salt is growing a reputation for exceptional meats and the lamb filet was no exception. Cooked to perfection the pink lamb was hiding behind the Veal Farce and the Wirsing Cabbage. The Veal Farce was slightly too strong in flavour somewhat overpowering the more delicate lamb, cabbage and delicate red wine & rosemary sauce. A highly creative main course with vast variants of rich flavours and succulent meat.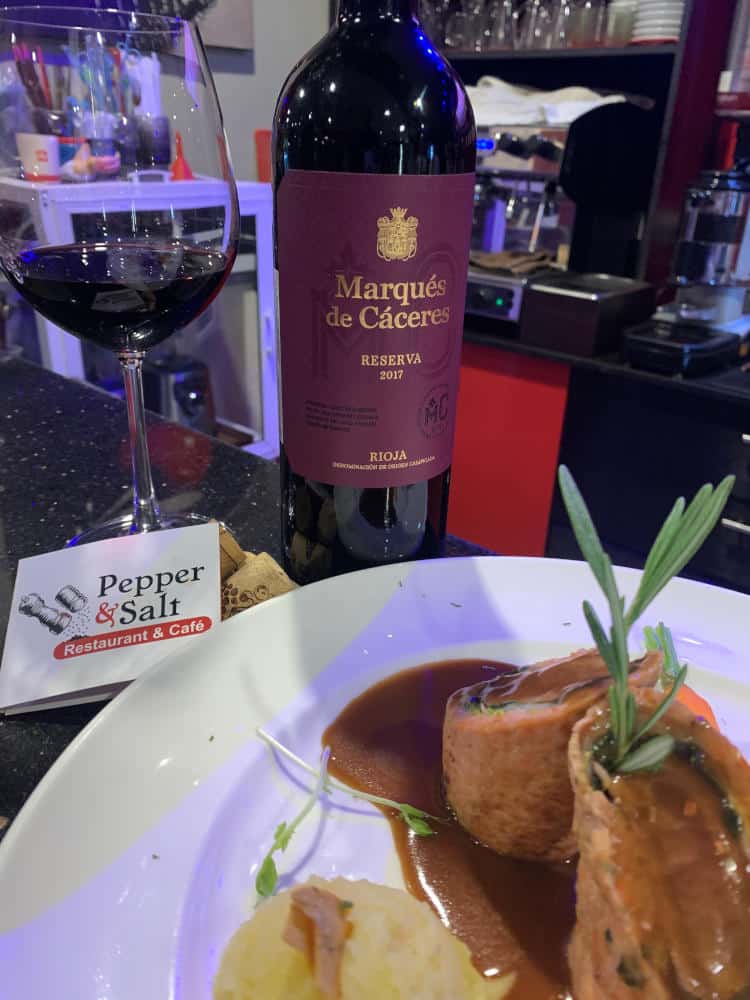 The Marquese de Caceres Reserva, Rioja Alta 2017 with 92 points from James Suckling, was an admirable pairing. This 90% Tempranillo was an intense dark ruby colour denoting both concentration and complexity. Black fruit flavours with a background of vanilla and pepper spices revealed a wonderful complex and rich bouquet. Flavoursome and elegant in the mouth with mature, refined tannins. Silky and with a full finish to linger on the palate, this Reserva was excellently paired with the richness and pungency of the lamb and veal.
To follow was an Italian Cheese Selection of Chili Pecorino, Provolone Sweet from the Po valley, Sweet Gorgonzola Anoldi and ripe Parmesan all served at a perfect temperature. A complex and well considered variety of cheeses was meant to titillate the taste buds, all were mild and gentle except the crisper, aged parmesan.
The task of pairing with the cheese selection was a Trenel M.Chapoitiet Fleurie Cru de Beaujolais served slightly chilled. Fleurie was one of the first Beaujolais wines that I recognised and enjoyed in my early drinking days so its arrival was quietly anticipated. However old memories appear to have waned and it was not the wine that I had in my memory! Having said that, it was an immensely enjoyable wine. Powerful with mingling violet and peony with spicy notes of pepper, liquorice and leather on the nose. Very smooth on the palate, the fruity aromas gave powerful length combined with freshness and elegantly paired with the varieties of cheese.
Pepper & Salt has become synonymous with its in-house bakery, Le Bakery Desserts and the Le Bakery team again shone with their creation Dark Chocolate-Hazelnut Crème Feuilletine, Glacéd Banana and Vanilla Ice Cream. Looking like a calorie bomb, the Feuilletine was actually delicately layered thin, sweetened and crumbled crepes infused in the hazelnut cream and covered with a thin layer of intensely dark chocolate. Complemented with the glacéd banana and superb home-made ice cream it became a delicate concoction of sweetness to end a superb meal and provide energy to our stomachs.
The Santa Christina Vin Santo of 50% Trebbiano and 50% Mavvasia from Tuscany proved to be a perfect accompaniment to the sweetness of the dessert. With a lovely amber yellow colour and traditional aromas of pastry raisins and candied fruit on the nose, it was surprisingly full bodied yet subtle and fragrant on the finish with a nutty aftertaste.
Whilst the meal at Pepper & Salt, reflects the extreme experience of Celebrity Chef Fredi, there is an extensive team working in the background lead by Executive Chef Albert Casulocan, his kitchen team and the people working wonders in Le Bakery. This seamless teamwork enables such perfection to be prepared and served flawlessly by the immaculate team of Pepper & Salt/Crush waitresses.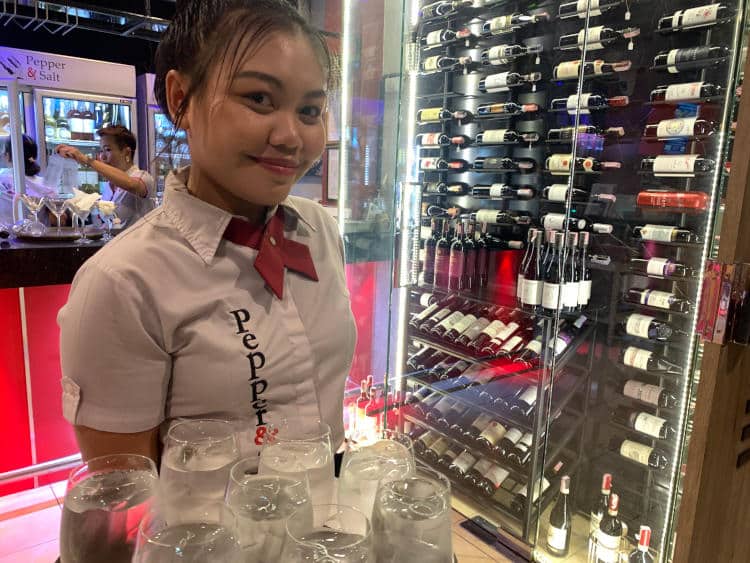 Watch out for Pepper & Salt Restaurant as it will be gaining increasing popularity both in Pattaya and even attracting gourmands and wine lovers from Bangkok.
Pepper & Salt Restaurant /Crush Wine Bar, Pattaya, Thailand
Read my previous review of a Pepper & Salt Private Chef's Table Wine Dinner here ……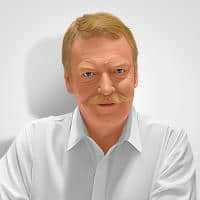 Kim Waddoup
Founder
Kim Waddoup enjoyed a lifetime in the tourism business and is an active 'Silver-Ager" living in Thailand. He writes for his age group with high varied articles covering subjects relevant to retirees living in, or visiting Thailand. Any questions or comments on this post? Please do feel free to contact me through our 'Contact Form' or directly [email protected]