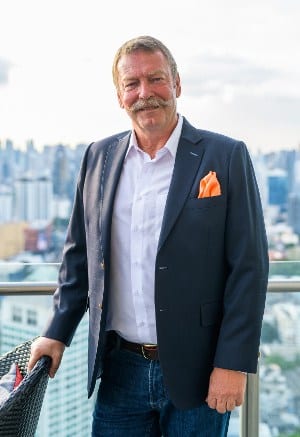 Hi! I am Kim Waddoup, born and raised in the UK, I am really a European by heart. Having been a perpetual entrepreneur with successful enterprises in UK, Austria and even in Russia, I am now living out my life in South East Asia. Jomtien near Pattaya is my current home and I am enjoying everything (and more) that this vibrant country has to offer. I love everything about Thailand and whilst I am happy to travel around South-East Asia experiencing the cultures and people, I am always happy to return to my new home.
I created Meandering Tales Lifestyle Magazine and Blog as I love to travel and write. So this Blog consists of my personal experiences in Amazing Thailand!
I'm retired so my travel, whilst often adventurous, does have a certain comfort level. I am also often a single traveller and appreciate the specific requirements of people on their own. My writing is designed to be informative and accurate. I don't believe in kowtowing and write as I experience. If I like, the superlatives roll off my keyboard, if I don't like I am more reserved! I believe that all suppliers in the tourism experience have their role to play, it's just that some do it better than others. With more than 40 year experience in the Tourism Industry combined with the ownership of 3 magazines I have always enjoyed travel and being able to write about my experiences. Meandering Tales is my opportunity to travel my way and experience real travel.
I hope you enjoy MeanderingTales.com and look forward to your comments and, who knows , maybe meet you somewhere in the wonderful and varied world that we live in!
Aims and Demographics
With Meandering Tales Lifestyle Magazine, I am targeting Silver/Golden age travellers. We are generally a little more sophisticated and whilst digitally up to date, sometimes still prefer fold-out maps to Google. We have worked hard and are aware of our financial limitations. We do take selfies, but occasionally and generally just for the folks back home. In our travels we like to meet people, both locals from the countries that we are visiting and other travellers with whom we can share our experiences and knowledge. Our age group know how to have more fun than the Millennials and we do still know how to party though we generally prefer live bands to techno. We love to eat and whilst a beer is often the order of the day we also do know our wines. Working on the belief that 'Life begins after Retirement' we are not deadbeats, rather health conscious, fun loving, friendly and adventurous. And as Bon Jovi sang:
This ain't a song for the broken-hearted
No silent prayer for the faith-departed
I ain't gonna be just a face in the crowd
You're gonna hear my voice
When I shout it out loud
It's my life
It's now or never
I ain't gonna live forever
I just want to live while I'm alive
(It's my life)
My heart is like an open highway
Like Frankie said
I did it my way
I just want to live while I'm alive
It's my life