There are more than 10,000 different grape varieties in the world, providing professional sommeliers a broad range of attributes to choose from when pairing. However, when you consider that this figure includes table grapes and raisins, the choice is somewhat reduced! Still, to many, the responsibility of choosing the correct wine for a particular dish at a wine pairing dinner is a great responsibility.
To make it slightly easier 13 varieties comprise approximately one third of total vineyard supply and 33 occupy 50% of the total. The Private Chef's Table Dinners by Celebrity Chef Fredi at Pepper & Salt Restaurant in Pattaya generally strive to introduce innovative grapes sorts, whilst also sourcing classic variants. At the latest Private Chef's Table in June, Pepper & Salt invited guest Sommelier Benjamin Tomasani to suggest and defend his pairings.
The acclaimed Pepper & Salt canapés and "Starry Night" Cocktail started the evening and regular guests now know that you must limit your intake of these amazing canapés on special Le Bakery baguette!
The culinary voyage commenced with Norwegian Salmon marinated with Teriyaki Sauce, sweet Cucumbers, Avocado Sauce and Sesame Mayonnaise. An alluring composition and immaculately presented. The substantial portion of Salmon was firm yet tender and delicately marinated. It was perfectly complemented with the sweet cucumber and avocado sauce with the sesame mayonnaise providing a delicate additional texture and flavour.
Two of the rules of wine pairing were put into action with the very imaginative Torresella Proscecco Rose DOC Brut from Vento Italy. This vintage 2021, 100% Glera grape with a strawberry, pear and honey nose almost sizzled on the palate! It was lively, well balanced with strong acidity that perfectly complemented the salt and colour of the salmon. Full marks to both Chef and Sommelier!
Chef Fredi's soups are legendary, and the Hot & Sour Soup with Mushrooms, Tofu, Crab Meat, Chili and Spring Onions did not disappoint.It was pungent, it was hot, it was sour with the tofu and mushrooms providing contrast to our taste buds. Full of intense flavours, this concentrated broth was accentuated by the pieces of carrot that virtually dominated and flavour from the crab meat.
Knowing Chef Fredi's intense soup styles, I was interested which pairing our Sommelier had chosen. Whilst slightly surprised at the Domain De L'Herre, Sauvignon Blanc from Cote des Gascohne 2022, this wine proved to be most successful with its nose of fresh citrus, grapefruit followed with almost spicy subtle notes. Full of minerality and fruits on the palate it was a most expressive wine with a relatively short finish. An unusual Sauvignon Blanc from Cote des Gascohne there was no coastal influence making it an excellent pairing.
The next delight was Red Wine and Balsamic Braised Duckling Breast in roasted Sweet Onion served on a baked Cepe Mushroom Risotto decorated with Fried Garlic and Parmesan Crisp. An intriguing and complex dish that combined a fusion of varied flavours and textures. The duckling was shredded and tender with a subtle hint of rosemary, the size and volume of the sweet onion was a little overpowering and almost hid the Cepe Mushroom Risotto. Slightly salty for my personal taste but a creative combination of sapidity.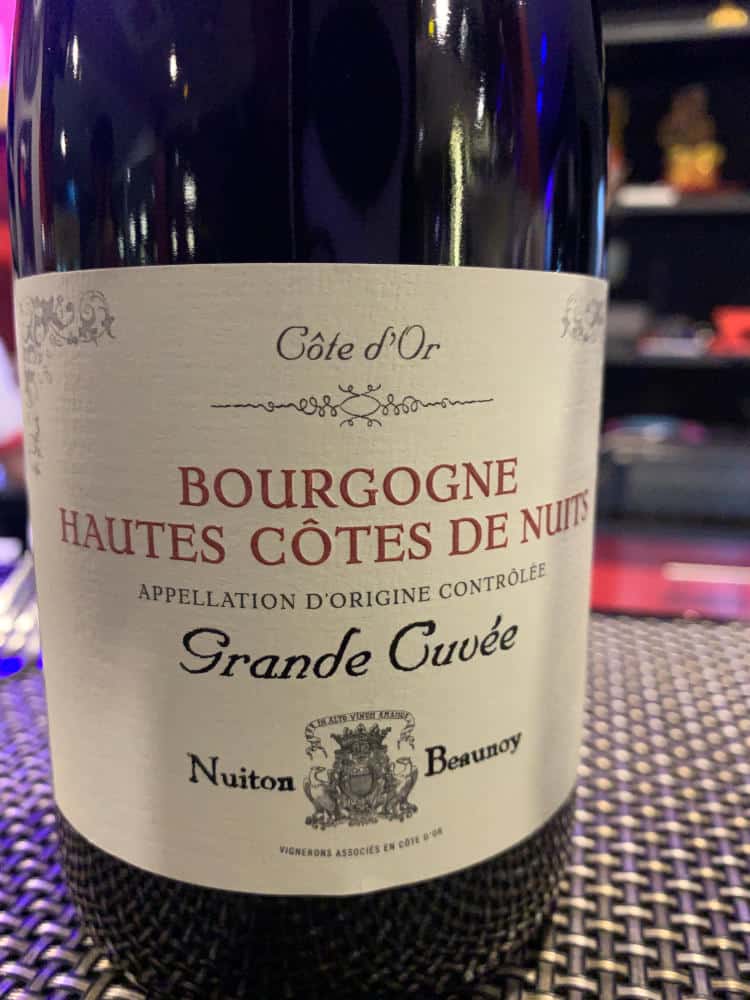 The pairing with a Bourgogne Haute Côtes de Nuits Grand Cuvee Nuion, Beaunoy Burgundy was a touch of excellence. This 100% Pinot Noir showed a deep purple, ruby colour with a surprising and complex nose. Vibrant and velvety with a touch of minerality on the palate, this 2019 top rated, limited production wine totally complemented this dish extolling its complex flavours.
So often a sorbet is just a refreshing interlude but nothing of note, however the Gazpacho Sorbet with a hint of Vodka aroused our taste buds with an intensity from the tomatoes, cucumber, green bell pepper, red onion, garlic olive oil and sherry vinegar that was intensified with Gazpacho's secret ingredient, bread. Stunning and unexpected!
Pepper & Salt is building a laudable reputation for their carefully sourced steaks and the Australian Wagyu Flank Steak served with green Asparagus topped with Fried Shallots, Potato Terrine and Pepper Sauce was a testament to their fastidious meat selection. Generally, a flank steak, whilst enjoying a good flavour, is somewhat tough, this Wagyu Flank however, was tender and bursting with taste. The superb potato terrine was an excellent addition providing some calming effect to the slightly astringent pepper sauce.
The pairing was a Kalleske Mopa Shiraz from the Barossa Valley in Australia rated 92 points by James Suckling. In an unusually shaped bottle this 100% Shiraz was a deep purple, almost black colour with a complex nose of plum, blueberry, mush, cinnamon and malt. Full bodied on the palate with natural tannin adding complex structure to the graceful oak providing depth and complexity. This wine has an interesting story behind it and is definitely a producer to look out for. Again, full marks for the pairing.
Could the Pepper & Salt team continue to surprise and excel? Of course, with the Epoisses Cheese from Bourgundy served with Pickels, Pearl Onions and Le Bakery bread delights! Interestingly banned in America (their loss!) this odious cow's milk cheese is rinsed in Marc de Bourgogne brandy until it starts to waft the smell of sour milk, is one of the 'stinkiest' French cheeses. Full of bacteria and flavour, especially when warmed in its wood container, patrons delighted in the rancid yet alluring smell and the pairing.
Despite coming from Burgundy, Epoisses is best paired with beer! Pepper & Salt chose a delightful Trappist Franzislaner Premium Weissbier Dunkel from the Späten Brewery in Munich. Created by the Franziskan monks in 1363 (that's 600 years ago!) and still adhering to the German Beer Purity Law of 1516, this traditional dark beer perfectly complemented the pungency of the cheese. A bold choice of cheese and beer but combined with the wonderful bread from Le Bakery, it was a most enjoyable component of the savoury courses.
In-house bakery – Le Bakery enjoys a growing reputation for international quality desserts and the team excelled with their Mango Parfait & Coconut Ice Cream with Tropical Fruit Salad, Passionfruit and Blueberry Sauce. Delightful colours and with an artistic design this dessert was a perfect finale. The mango parfait had a perfect consistency with intense flavours and the creamy coconut ice cream was delicate yet encompassed the full spectrum of complex coconut.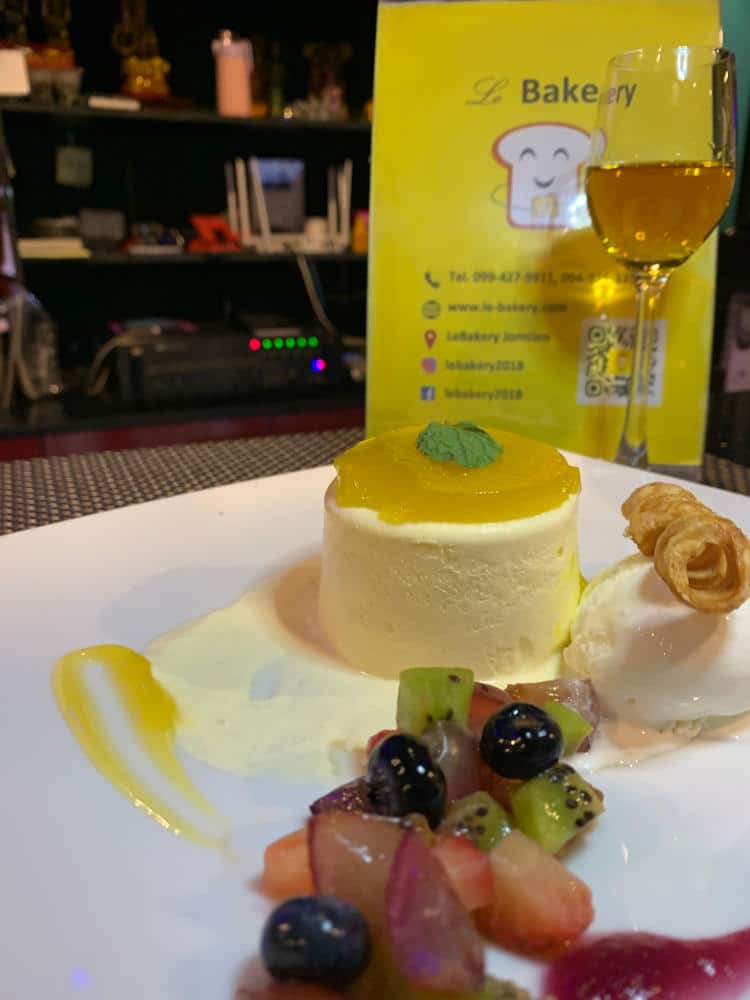 Interesting paired with a Chateau Millet AOC Armagnac VSOP from Gers en Gascony in France. This choice had patrons discussing when they have last imbibed in an Armagnac! Slightly less pungent from a single grape Cognac, Armagnac is generally a blend of up to 10 grapes but all from the Armagnac region. A lovely, warm, golden brown in colour, the alcohol is mellow leading to a spicy finish. An eau-de-vie with a good length that maintained its notes of fruits and freshness. Another superb pairing!
In addition to the celebrity Chef's cuisine and exceptional pairings, Pepper & Salt has an outstanding reputation for its Kitchen, Bakery and Service Team. Each played a seamless role in executing a most memorable and enjoyable culinary experience for the 35 guests. Congratulations to all!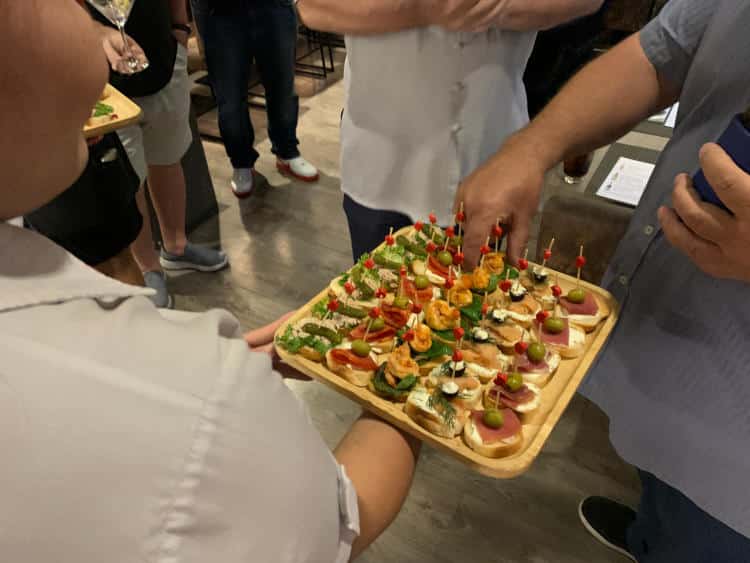 Pepper & Salt, Soi Khao Talo, Pattaya, Thailand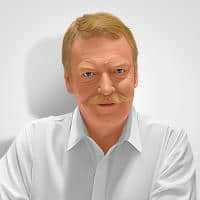 Kim Waddoup
Founder
Kim Waddoup enjoyed a lifetime in the tourism business and is an active 'Silver-Ager" living in Thailand. He writes for his age group with high varied articles covering subjects relevant to retirees living in, or visiting Thailand. Any questions or comments on this post? Please do feel free to contact me through our 'Contact Form' or directly [email protected]