Thailand's Songkran festival represents the celebration of the Buddhist New Year. Images of Buddha are symbolically bathed and Thais show their respect to monks and their elders by sprinkling water over their hands. To experience or witness this genteel ceremony in a private family setting is extremely moving.
Coming from the Sanskrit word sangkranti which means pass, transform or change, referring to the movement of the sun and planets from one zodiac sign to another. For Songkran it is the movement from Pisces into the sign of Aries and auspicious time to make resolutions and to set new goals.
In public, it is a vibrant and happy celebration to usher in the New Year with great joy and enthusiasm. Water does play a major role from the symbolic sprinkling to the modern dousing! After all it is the hottest time of the year and getting soaked is mostly a pleasant distraction.
Officially celebrated on 13 April each year the festivities continue at least for 3 days from 13-15 April and often longer! Celebrated throughout Thailand from small villages to all cities. As it is a public holiday, vast numbers travel home to their families and the tourists can play.
Be prepared to get wet, very, very wet! It is not possible just to come to look! Ensure that your phone and valuables are well protected in a waterproof bag and dress simply as you will be soaked! The days of gentle splashing are long gone, bright powerful water guns and vast tubs of iced (yes ICED) water will ensure that no part of you stays dry!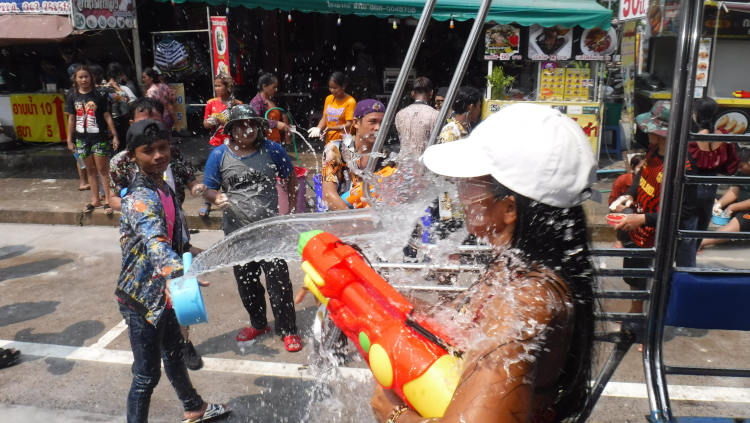 Also be prepared to have your faces smeared with white powder paste (Din Sor Pong) as part of another ritual to ward off evil spirits. The powder was originally made from fine white limestone soil from Lopburi. It is best to offer your faces to be smeared as by shying away, you will probably end up with this powder in your eyes or clogging your ears. But no worry, there is plenty of water available to wash it off!
I found this tradition with Din Sor Pong to be one of the most captivating of the Songkran traditions as it was mostly sincere teenagers that wanted to perform this ritual act, wishing you "Sawad dee ppee mai" or Happy New Year in Thai. I was fascinated by their cheerful, smiling faces and recommend that you accept this gesture in the way that it is presented as this is an age group that we foreigners rarely come into close contact with.
Songkran is a time to be happy and at one with our hosts, the Thais. The act of painting your face or pouring a bucket of iced water down your back is one of genuine welcome and togetherness, especially as these acts are done with a big smile! If you don't like or are unable to accept this, it is better to take a trip outside the country, or lock yourself in at home for the duration.
Whilst the official dates for Songkran are 13-15 April there are also many additional local celebratory days, mostly known as Wan Lai or the 'Flowing Day'. Certain cities appear to have the rights to extend the Songkran celebrations throughout to this mega celebration. If you thought that Songkran was fun, wait until you enjoy Wan Lai as it is many times more fun and even wetter!
So, what actually happens during Songkran/Wan Lai? It tends to start slowly and you will start to notice the appearance of a hose and a large barrel on the street for the participants to douse passers-by. Initially, easily avoided as you just need to look for wet spots on the streets, however as the momentum gathers the chance of a soaking increased especially in smaller sois with bars on both sides. Here these is no chance of escape!
As the energy increases, so does the volume of water and you will find pick-up trucks roaming the streets mostly soaking others coming in the opposite direction but also sometimes an unsuspecting passer-by. Top-up water tankers are strategically located, and you may even see these tankers commandeered and spraying astronomical volumes of water. The 3 days of Songkran are generally quite crazy and then Wan Lai (if held), is nothing short of maniacal and such fun!
Join in, don't try to avoid it. Dress lightly and have your valuables and phone in a plastic bag. If water is thrown at you, accept it with a smile and never try to stop the process. Don't get angry, it is the lovely Thai celebration and their pouring of happiness is overwhelming.
Songkran in Thailand where are the best places to be?
Bangkok is spectacular with many younger Asian guests arriving specifically for the holidays. The most famous area is probably Silom with drenching festivities taking place in Khaosan Road, Soi Cowboy, Nana and anywhere where there is a concentration of bars. If you can, rent a Tuk-Tuk, fill your water guns and patrol the streets, it is an amazing experience.
With traditional celebrations through the city, Chang Mai is also a most enjoyable destination for Songkran with the Phae Gate and all the areas around the Chiang Mai Moat amongst the most popular.
Naturally Phuket celebrates in crazy style starting with Phuket Old Town and spreading to Patong, Kata, Karon and especially Bangla Road at night.
*Personal Choice* – The Best place to celebrate Songkran is Pattaya & Jomtien Pattaya!
My personal favourite is now firmly Pattaya – this city really knows how to celebrate. Songkran is wild along Beach Road and all the bar streets. Pattaya also celebrates Wan Lai, so when it has finished in most places, Pattaya saves it's best for last. Starting on Jomtien Beach Road the noise and water battle between the pick-ups is monumental. The Jomtien Complex gay area hosted foam parties and lots of scantily clad boys. Possibly, the most fun is taking a Song Thaew (open pick-up taxi) from Jomtien to Pattaya and experiencing the continuous water deluge on route. Sadly, Second Road construction limited the festivities but there was plenty of water to be found on Soi Burkhao, Sois 6, 7, 8 and on Beach Road.
After a gap of 3 years due to Covid, Songkran in Thailand is back with a vengeance. Possibly the happiest festival in the world the main ingredients are water and laughter. You either love it as I do, or……..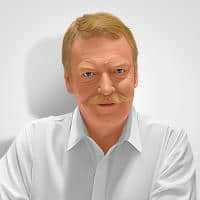 Kim Waddoup
Founder
Kim Waddoup enjoyed a lifetime in the tourism business and is an active 'Silver-Ager" living in Thailand. He writes for his age group with high varied articles covering subjects relevant to retirees living in, or visiting Thailand. Any questions or comments on this post? Please do feel free to contact me through our 'Contact Form' or directly [email protected]