Koh Phangan is infamous for it's Full Moon Parties – but there is a lot more to discover!
Just for clarity, maybe I should preface this article with the proviso that I am a sane and mature human who loves to travel and explore new places. I don't think that I can be stereotyped and apologise in advance if I do this to others. Koh Phangan is very different with wildly diverse people and sub-cultures that are quite unusual for the rest of Thailand. I am not saying this in a negative view but keep shaking my head as I write this article!
Standing on the bow of the rusty, smoky ferry, the first impressions of Koh Phangan were of a green, fertile island with steep hills in the background. As the wheels of our car left the vessel, we were assailed with the normal throng of taxi drivers eager to take you wherever you wanted to go.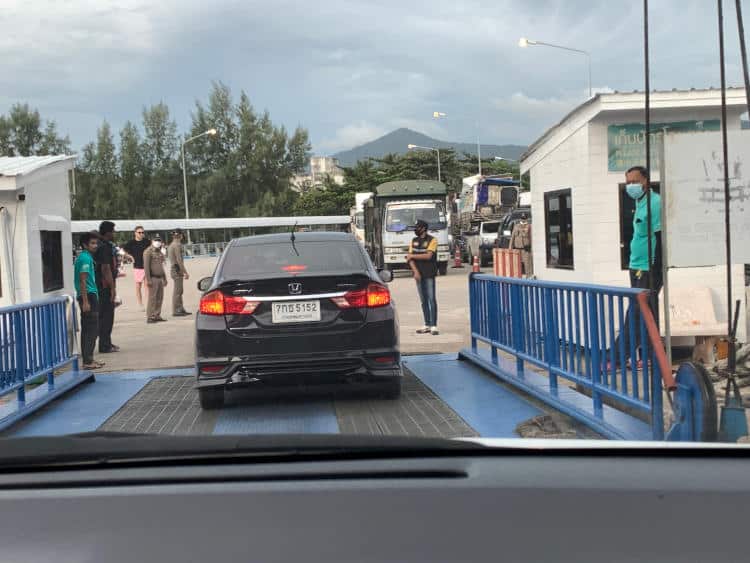 After an appalling 2 ½ hour crossing on the Raja Ferry with minimal facilities and the smoke from the funnels permeating throughout the ship, our priorities were fresh air and coffee! Less than 200 metres from the ferry is Nira's Home Bakery and our introduction to the Koh Phangan coffee shop scene. More later!
Thonsala, the main town on Koh Phangan is a collection of ramshackle low-rise buildings and the largest settlement with a broad selection of eateries, coffee shops, shops and a few bars. Whilst there is traffic on the island, the number of motorbikes being propelled regardless of traffic rules is astounding.
Koh Phangan is hilly and the majority of the roads have followed tracks that follow the contours around the edge of the island. Especially on the West of the island, the resorts are to be found below this road and many of these gradients are extremely steep and would limit a guest with limited mobility. Not so say that seniors or people with disabilities will not be able to enjoy the island but special care should be taken in planning your stay.
For the first night we had booked the Pimmada Hut on Pleayleam Beach, mainly due to its proximity to Thonsala. Whilst a lovely small resort, it did not state that the roadway down was dramatically steep. Going down was a challenge but coming back up we almost reverted to hands and feet. The chalets were simple but adequate and being the only guests, we were offered their beach side chalet just 2 meters from the sea. Whilst an idyllic and relaxing spot, the alpine exertion to exit and an a/c that sounded like a 747 on reverse thrust made us move on and explore more of Koh Phangan.
Naturally we were well aware of the various reputations of Koh Phangan, from the infamous Full Moon inundation of partygoers to the bright-eyed, bohemian yoga fanatics but the mix of visitors to the island is complex. Many couples, few older people, mostly young couples, probably the worlds largest collection of dreadlock hairstyles and digital nomads laying claim to their tables at many of the island's cooler cafés. A real cornucopia and melting pot of world travellers.
We continued our exploration of the Koh Phangan. Travelling West we soon found the most impressive Indigo café and restaurant and enjoyed the first of the island's variations of Eggs Benedict and excellent coffees.
Ao Hing Kong is a long but small beach running along the road. Several cafés and restaurants along here but most not open when we visited.
The Haad Son Resort and Koh Rahan Beach Club is well worth a visit. The beach club is located on a rocky outcrop, decorated in a fantasy/shipwreck style it defies description and is naturally a selfie hotspot. The main club and bar is very cool with chilling music but explore a bit further out and you will come to the restaurant section with the surf directly below you. Food and drink acceptable, service good and spectacular views and very Instagramable!. Highly recommended! https://www.facebook.com/Kohrahambeachclub
What's Cup is a charming café located above Haad Yao. Excellent coffee and lovely food but unfortunately overrun with Digital Nomads each laying a highly protective claim to a table with their omni-present silver Mac Airs. I suppose I could also be described as a Digital Nomad and whilst I appreciate the freedom that this lifestyle brings, the colonisation of an entire table is not over encouraging for a normal client who wants to enjoy the food and drinks and soak up the view. Maybe some cafés on Koh Phangan could consider limiting the keyboard warriors allowing normal, paying guests an equal opportunity. Rant over, but we did experience this a few times on the island.
The weather was not at its best when we discovered Haad Salad (Salad beach) and we were most fortunate to find a great offer on Booking.com for the superb Salad Buri Resort due to low season rates and Genius upgrade. It is a good-sized resort and must be wonderful during high season with its spectacular private pool suites, comfortable beach restaurant, 3 swimming pools and direct beach access.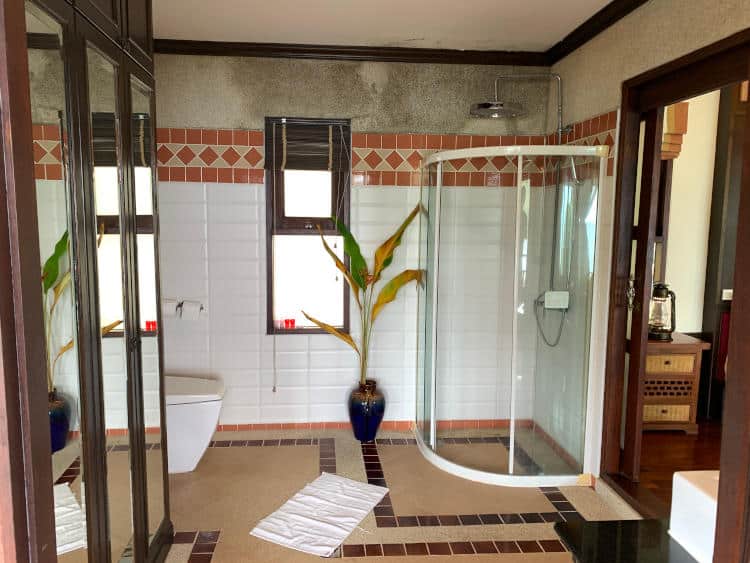 I have mentioned the mobility/access issues on Koh Phangan, earlier and the Salad Buri is good example as many of the rooms are built on the hillside. The room we received was superb, teak flooring, comfortable bed, nicely furnished, fully equipped western bathroom and a beautiful terrace with spectacular views. However, the steps down to the pool and beach were treacherous, especially in the rain. This is most certainly not a complaint as we survived, purely an observation to the less mobile!
The hotel and Salad beach became our comfortable home for 4 nights which is quite unusual for us as we generally change hotels/resorts every day! This was a combination of inclement weather, a very comfortable room and the charms of Salad Beach!
Having negotiated the alpine pathway to the pool area, there is direct access to the beach with its classic crescent shape and protected by a reef. It appears that the 'traditional' fishing boats are purely for show as they never moved! Along the beach there are a few restaurants and bars with seating and dining directly on the sand. A Happy Hour promotion encouraged us to take a table and we enjoyed simple but friendly service, excellent Thai food and ice-cold beers.
Also on the beach is a thatched roof massage establishment. There is nothing better than having a professional massage with just the sea breezes to cool you. Mama Tuk's Massage is an iconic establishment on Koh Phangan that is more than worthy of its own article entitled 'Healing Hands'.
Whilst in this area, we did discover the Flow Café and Eatery a very comfortable modern coffee shop again with excellent food and good coffee. However, our prime discovery was the really charming Buddha Café which I highly recommend for the wonderfully relaxed atmosphere and ambience. Their food is healthy and tasty in addition to excellent coffee. From the Buddha café it is just a short walk to Salad Beach.
North of Haad Salad we explored Mae Haad Beach and the curious sandbar out to Koh Ma. Sadly, the weather conditions were against us and the sights were not very impressive through the rain. Our lasting impression was unfortunately of all the rubbish swept up onto both sides of the sandbar. It is sad to see and with a large resort nearby with ample staff lounging around a quick clean up would have certainly improved our lasting impressions.
From Mae Haad Beach it is just a short drive to Ao Chaioklum beach and its selection of fish restaurants overlooking the bay. The restaurant that we chose was not spectacular which is a shame considering their location, view and fresh fish potential.
Now in full Koh Phangan exploration mode we were heading towards Haad Kkom, when we saw a hand-made sign to a 'Viewing Point". This we could not resist! The road twisted and some of the gradients were spectacular and then, abruptly, to the end of the road. Undaunted the car was parked, and we continued on foot, up and up! Towards the end a little kid came running down the path to greet us and encouraged us onwards and upwards. The "Viewpoint" is a very basic construction but the views over Koh Phangan are spectacular. Totally non-commercial the 'menu' indicates that the owners name is Jah, and he lives here with his 5 year old son, Ten. Their only income is selling drinks! It was a relatively expensive bottle of water but the discovery, views and scenery were well worth the effort!
Returning to our original plan we followed the road along Haad Khom until its sudden end in a hiking trail. Returning, we made our way to one of the most beautiful little beaches of Thailand, Haad Khom. With just 2 small resorts with bungalows directly on the edge of the beach this must be what most people can only dream about. It can't be busy, but every bungalow appeared to be fully occupied with families quietly enjoy island beach tranquillity. Not easy to get to but worth the effort and keep the less adventurous out!
From Ao Chaioklum the road runs back to Thongsala. It is the best road on Koh Phangan, but still expect many steep gradients both up and down. There is one gem to find on this route and that is the out of the way and rather lovely Balance Coffee. Located in the middle of nowhere, this charming, modern coffee shop offers spectacular coffee and excellent food in a relaxed rural environment. Be careful not to park your car under one of the coconut trees!
We then started to focus on the East of Koh Phangan and first made our way to Ao Thong Nai Pan Noi beach. Another lovely rural drive (nothing is far on Koh Pangnan!) and again expect some substantial gradients. The beach of Ao Thong Nai Pan Noi is an idyllic white sand, coconut thronged beach but dominated by some International Resorts. If you are looking for a resort holiday this would be a good place with the Anatara and other resorts.
With our fixed budget of a max THB.1,000 per night we stayed at the traditional Sandee Bungalow resort. They offer a few 'hotel' rooms which were excellent. In fact, the bed and bedding were some of the best that we have experienced. Nothing to look at but just 100 meters to the beach, excellent value for money.
The next bay is Ao Thong Nai Pan Yai which has managed to avoid the onslaught of International hotels and resorts featuring just simple, local resorts all directly on the beach. It is again a beautiful beach and an ideal laid beach spot for a budget beach holiday.
Returning towards Thongsala there is an impressive sculpture on a roundabout. Strangely enough this was the first and only modern sculpture we had seen on the island and likewise only the second roundabout. By turning left we were led towards a series of waterfalls. There are some places to park and walk down, again quite steep and at the Phu Dang waterfall you can swim in one of the many rock pools. Follow the falls to the end of the road and you come to the Deang Waterfall, and as the river flows into the sea the vista of Haad Than Sadet beach suddenly opens through the foliage.
Probably one of the most enchanting beaches that I have visited, there is an excellent little beach bar, lovely white sandy beach, the charming Plaa's Restaurant & Resort up on the hillside and an impressive, surrealistic bamboo bridge over the small river. The resort only has 10 rooms, all were occupied and there are virtually no alternatives. We did explore the roads up to the cliffs but they had not been used for a long time and a landslide forced us to return.
All that was no left was to take a deep breath and drive towards the infamous Haad Rin Nok beach, the location of the notorious Koh Phangan Full Moon Parties. As you drive deeper on to this isthmus, the signs of disrepair and neglect surround you. The 'avenue' to the beach is littered by boarded up shops and has an 'English seaside town in the depth of winter' feel to it. The beach itself is actually impressively beautiful with a few resorts open but most establishments appear to only open for a few days for the revelry enjoyed by so many. Apart from the beach the entire region emanated an air of dereliction and desolation which we were relieved to leave behind us.
I must have been so impressed, as I later discover that I did not take a single picture of Haad Rin Nok!
There was a bight star on the horizon with the discovery of the charming Rong Café. The owner, Teerawut (nicknamed Dear), is charming, a coffee fanatic and such a wonderfully interesting person. His roaster shop is located in-house and he is constantly striving for new and innovative blends for his patrons and other cafés on Koh Phangan. Tremendous care and attention go into everything that they sell. Teerawut's wife bakes the panini herself and the house banana cake is spectacular. He made his University dissertation on growth and development of bananas so you can imagine the extensive research that has gone into every smoothie. During Covid, this exceptional young man took up bee-keeping and his on-line YouTube videos brought a lot of pleasure to people suffering from the financial aspects of the pandemic. What an amazing visit and talk, one that I will cherish for a long time. Thank you Teerawat!
Finishing on a high, our exploration of Koh Phangan was completed, and it was time to book the 09:30 Raja ferry for Koh Samui.
What are my impressions of Koh Phangan? It is well worth a visit; the scenery and beaches are truly spectacular. It is probably the least Thai place that I have visited. Very few Traditional Thai wais and not so many smiles as the majority of the staff are from Myanmar. Not a criticism, purely an observation. The people on the Koh Phangan are also different with the mix of modern-day hippies, bohemians, yoga aficionados, vegetarians & vegans, partygoers and couples blending together like one of the island smoothies. Be prepared for steep gradients on the road, if you do take a motorbike, please wear a helmet as it is not easy to drive. Otherwise enjoy and bask in the glory of this island paradise, Koh Phangan!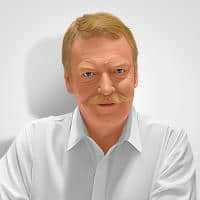 Kim Waddoup
Founder
Kim Waddoup enjoyed a lifetime in the tourism business and is an active 'Silver-Ager" living in Thailand. He writes for his age group with high varied articles covering subjects relevant to retirees living in, or visiting Thailand. Any questions or comments on this post? Please do feel free to contact me through our 'Contact Form' or directly [email protected]