The tiny South-East corner of Thailand has always intrigued me and an invitation to review the Blue Haven Bay on Koh Chang was an excuse to make our way for some exploration in this area.
As tourism is recovering fast and to avoid potential queues for the Koh Chang ferry, we decided to overnight in Chanthaburi and continue to the island in the morning. Chanthaburi is a favourite of ours that is still mostly missed by tourists. The outskirts and not remarkable but once you are by the river, it is like entering another world.
The River Chanthaburi influenced the way that the old town was formed and in one relatively small area you can still see and experience a way of life from a century ago. Traditional tradesmen buildings occupy the water's edge and as you walk down the narrow Sukhaphiban road the impressions are most memorable. You can catch views into the old shop houses where people still live their simple lives. Some buildings have been restored and re-opened as boutique hotels and others as charming cafés and restaurants on the river. An evening walk past the impressive gothic style Cathedral of the Immaculate Conception and then finding a hidden café is a must when you visit.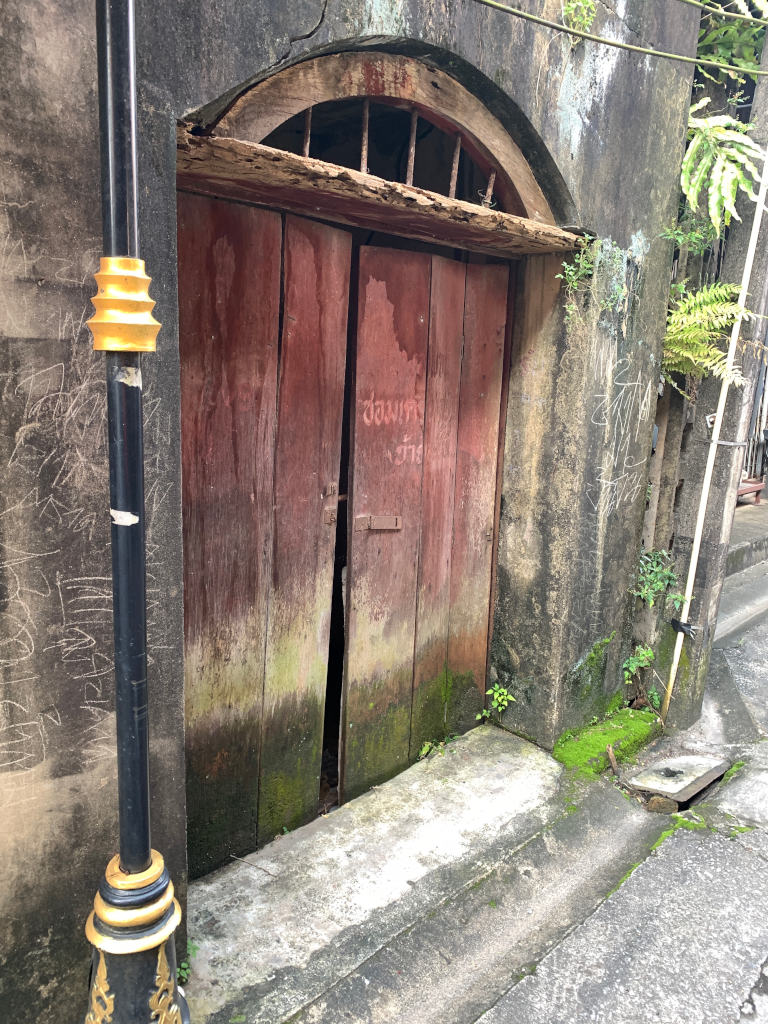 We stayed at the very comfortable Am2tree hotel which is in a very quiet location just a 15-minute walk to the Cathedral.
The next morning it was just a one-hour drive to the Ao Thammachat pier for the short crossing to the island. There were more cars waiting than for our last visit during Covid, but we only have to wait 15 minutes for boarding. Our car with two passengers cost just THB.280. The ferries are simple and there is adequate seating for the 20 minute journey.
We were staying the first two nights at the Blue Haven Resort which is just 5 minutes from the arrival pier, so just over one hill and turn right to this exceptional resort area. I wrote a full review that can be read here...
Likewise, I have written an article entitled Koh Chang Re-visited which can be viewed here…
There was no waiting for the return ferry which appeared to be a newer vessel we had the pleasure of turning right on the main road rather than follow all the other cars that turned left. We like to visit atypical places and drive roads that are just there, so we continue south to the Cambodian border. It is a lovely drive along an excellent road with panoramic sea view on one side and the Cambodian border being defined by the range of hills on the left. Rather unspectacular but we did have the dubious honour of being at the 'Narrowest Part of Thailand'. This is a disputed claim with a spot near Prachuap Khiri Khan and another on the 3 Pagoda Pass. This was definitely narrow at 450 meters and the obscure and abandoned monument left us rather confused. Some little coffee shops are appearing on this section of the road, whilst well located and nicely decorated their coffee skills do need to improve significantly.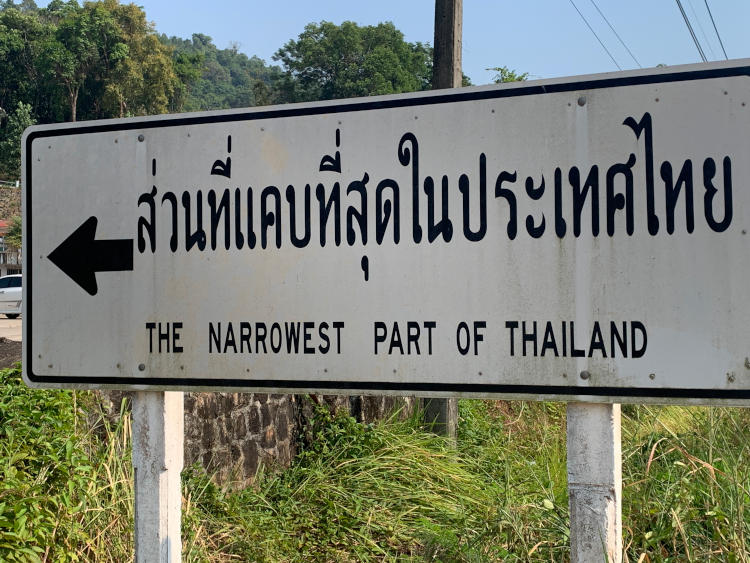 Our destination this evening was Trat purely for dinner and a good sleep before heading out on our next adventure to drive a road, just because it is there. There is some charm to Trat and we will return in the near future.
I have a large map of Thailand above my desk, and I see roads that I want to drive just because they are there! The 317 from Chantaburi to Sa Kaeo is one of these roads as it runs parallel to the Cambodian border. There is little of specific interest along this route but if you want to see a fertile Thai farming landscape the sights are most uplifting. The range of produce grown here is vast with Durian being the largest accompanied by rubber, pineapples and cashew. Thailand is one of the largest producers of the durian fruit exporting extensively to China. The trees take 4-6 years to mature and one can see in this region the massive increase with new plantations being grown.
This area is extremely fertile and enjoys good supplies of water from the nearby mountains, rivers and reservoirs. Whilst many areas of Thailand will appear quite dry and parched at this time of the year(March) this region is green and abundant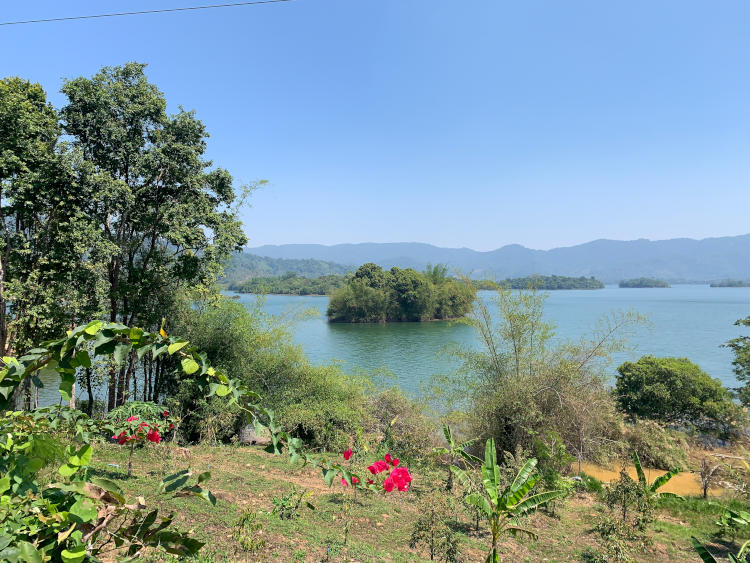 This was my first time seeing cashew trees and it is incredible to see what the tree has to produce just to produce the halves of a cashew nut that we are familiar with. The flower turns into an apple-like growth with the nut protruding from it's base. Evidently a mature cashew tree can produce 50-100 kgs of nuts annually!
My plans to fully explore the 317 were interrupted by our proximity to the Buddhist pilgrimage site Wat Phluang Khao Kitchakut mountain temple and we veered off to pay our respects. The full article on Wat Phluang Khao Kitchakut can be viewed here…
With the change of plans and an exhilarating visit to the mountain temple we returned to the Am2tree hotel and enjoyed one more evening having dinner within the charming old town of Chanthaburi.