A pilgrimage to Wat Phluang Khao Khitchakut & Khao Phra Bat Temples is quite an undertaking carried out by hundreds of thousands of devote Buddhists each year
Whilst driving through the captivating rural scenery north of Trat and Chanthaburi a visit to Wat Khao Khitchakut was suggested and I was shown the picture of an impressive rock, little did I know that this boulder, known as Khao Phra Bat, was located at 1050 meters above sea level! So we made our way to the extensive Temple grounds, parked the car and started our adventure.
In February and March there are 4-wheel drive pick-ups driven by testosterone fuelled young lunatics eager to make as much noise and burn as much fuel as possible on the 8 km trail to the midway station. It is an impressive track that has been crudely hewn from the mountainside enabling the masses to visit, just hold on tight and survive the journey. Our return journey was, thankfully, much more sedate!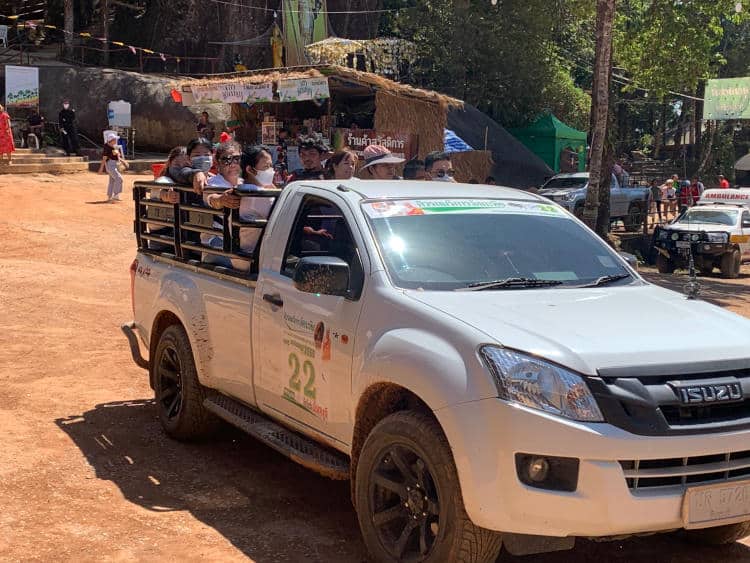 You are still more than 1km and several meters elevation from the top. The route up is well organised and most of the steps of regular height with frequent, very necessary resting places. Our Activity Tracker indicated that we climbed the equivalent of 27 floors so be prepared.
Khao Phra Bat is of extreme relevance to Thai Buddhists and each is expected to make the pilgrimage at least once in their lifetime. You will see families with elderly members, stoically making the way slowly upwards, most wearing just flipflops! You are also given a bag of stone chippings to carry to the top, I believe as a penance to Buddha,
It is a substantial hike and the views on a clear day must be spectacular, sadly the day we were there was not so clear. There are rows of bells and the devout are ensuring that each bell is rung as they laboriously make their way upwards.
The lower summit is the location of the gigantic boulder that is known as the Floating Rock or the Stone Pagoda. It is an impressive sight and worth the arduous climb. In the lee of the boulder is the Buddha Footprint which is so revered to Buddhists with frequent prayers and blessings being carried out by saffron robed monks.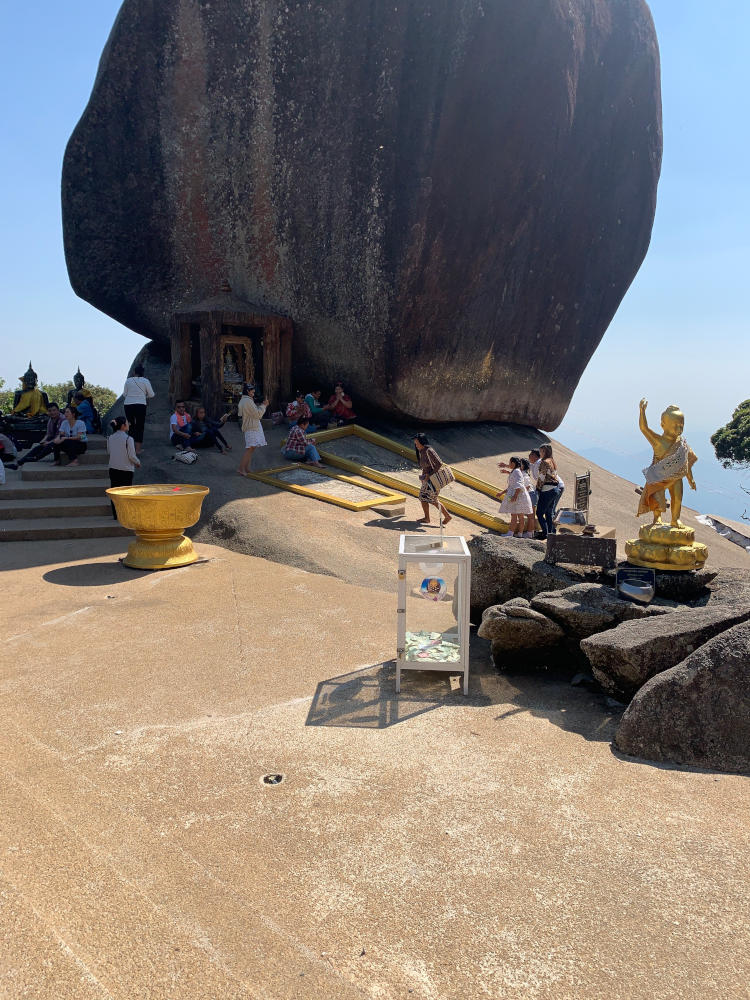 Wat Khao Kitchakut/Khao Phra Bat are only open in February and March when the road is passable and during this time it is a 24 hour operation with many preferring to take the climb at night and experience the sunrise. You will find people resting and often sleeping at all stages of the hike. Whilst open throughout the year it is ten only accessible by an arduous walking trail.
As Khao Phra Bat is of deep relevance to the Buddhist culture and not a tourist attraction. Please respect this and join with their devotion to reach the top. Despite the hardship it is a joyous place with everyone encouraging others not to give up and even a very jolly Monk spraying blessed (and chilled!) water on your head as you approach the top.
Take the downward stretch slowly and you will arrive back at the 4-wheel drive parking lot for a slightly gentler trip down.
Wat Khao Kitchakut is located 43 kms from Chanthaburi. The 4-wheel drive "taxi" costs THB.200 return. As the temple is located in a National Park, foreigners are cudgelled to pay the National Park entrance fee of THB.200, whilst Thais pay THB.50. There are plentiful supplies of water both bottled and filtered on the route and multiple food offerings at the main Temple. Accommodation is available locally but is very limited, my recommendation is to stay at Chanthaburi which has become one of my favourites in Thailand.
https://www.facebook.com/pages/Khao-Khitchakut-National-Park/440673519373812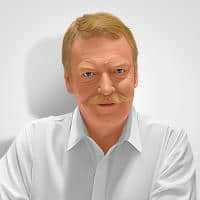 Kim Waddoup
Founder
Kim Waddoup enjoyed a lifetime in the tourism business and is an active 'Silver-Ager" living in Thailand. He writes for his age group with high varied articles covering subjects relevant to retirees living in, or visiting Thailand. Any questions or comments on this post? Please do feel free to contact me through our 'Contact Form' or directly [email protected]