It was time to visit some of the photogenic Ao Nang Islands
Editor Note: This article is part of our Southern Thailand Road Trip May 2022 which can be read here…
Following recommendations from local acquaintances in Ao Nang, we did relent and book a 4-island trip in a long tail boat. We met the family at the Hat Nappharat boat terminal, the wife cashed the charge THB.2,500 and the husband took us out to his boat. This time it was a genuine wooden long-tail with a mighty Toyota engine. We were informed that the boat had been his Father's before him and when not out on excursions he was a local Ao Nang fisherman.
We departed the little port near to Ao Nang, and with the brightly coloured ribbons flapping and headed out into the bay. Similar to Phang Nga the scenery overwhelms and all cares are forgotten as the traditional long-tail cruises through the tranquil sea. We passed the Tinidee Hideaway Resort on Tonsai Beach which is only reachable by boat due to the tall cliffs that tower majestically above it. Our first destination was Railay West Beach.
We disembarked on East Railay Beach and then followed the pathway through to the Ao Phra Nang Beach. There is a view point but the first section is climbing up a rope so we declined and continued to the beach. It was high tide, so the beach was limited and it was not possible to visit the Phra Nang Cave/Princess Cave with its many colourful and oversized Linga or phallic shaped statues meant to represent the Hindu god, Shiva.
We were fortunate in that there were few people there as with a high tide there would not be much space for any crowds. Railay is home to several relaxing resorts that are only reachable by boat, so if you do intend to stay overnight be sure to have your belongings packed in waterproof dry bags.
The boat tour continued further out into the bay to Koh Poda, an idyllic tropical island which does actually offer space to explore. It appears to be the chosen 'lunch island' for the speed boat operators and when we arrived there were people scattered around the beach eating their styrofoam packed lunches. Having previously explored some amazing beaches on the mainland we could not really understand the reason for a stop here, especially as we did not have lunch included.
Finding Koh Poda very beautiful but slightly absurd with groups scattered around and devouring their lunches, we continued to the nonsensical sight of lots of boats and several hundred people squeezed onto a narrow strip of sand! Thale Waek are 3 small islands that are normally connected by a sandbank. With a high tide, the connection is only possible by wading through. Again, it appeared to be a stopping point for all the tours and the sight of hundreds of rather bewildered tourists milling around on a small area of sand was somewhat surreal.
I could not understand the sense of getting of the boat (and having to pay a National Park fee!) just to stand shoulder to shoulder with the masses, so I just quizzically observed the proceedings from the prow of my longtail.
Next step was to stop under some sheer cliffs to go snorkelling. It looked lovely but I have an aversion to jellyfish and on seeing the size and colour of some these creatures, decided that erring on the side of caution was the best plan of action!
Whilst we could hear a storm rattling around the bay, we were all quite surprised at the speed that it hit. Fortunately, we were on the leeward side of Ko Kai island but, despite the roof, it was a scramble to place everything in the dry bag. Our Captain was unfazed and decided to swim to enjoy the warmer water. I guess he does not have my fear of jellyfish.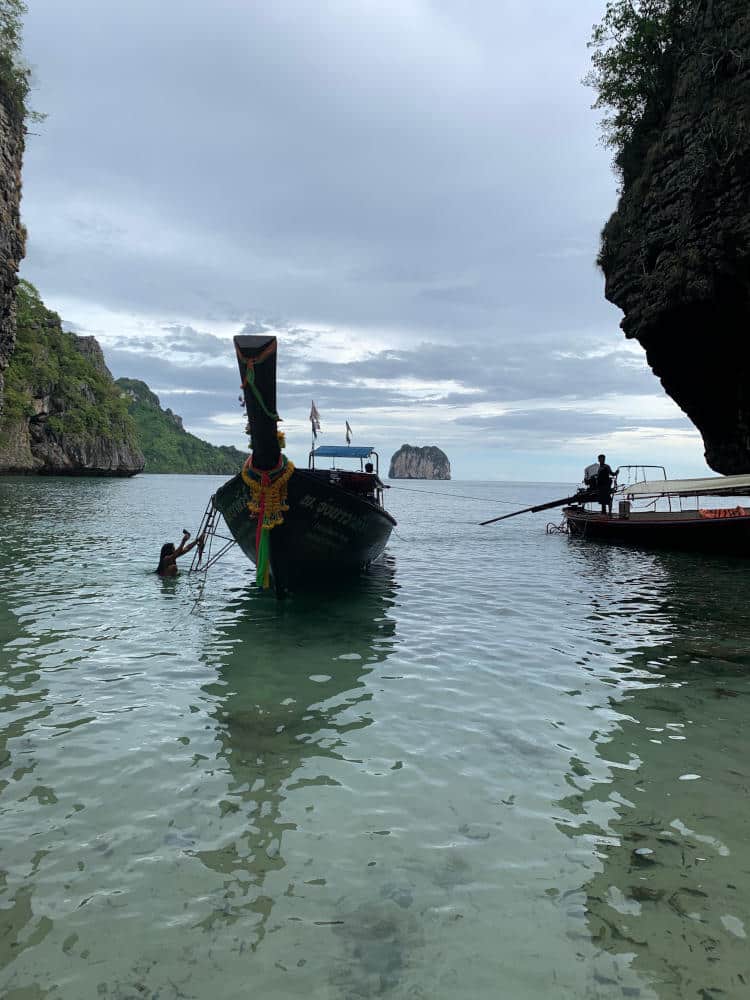 Ko Kai is dominated by a rather curiously shaped natural rock chimney shaped a little like a chicken's head, hence the name Chicken Island. Almost as a signal from the weather gods, lightning struck the chicken head, and some sizeable lumps of rock could be seen falling into the sea. A reminder as to how fragile the ecology is here.
The rain stopped and the skies cleared again. I believe that our captain had sensed that we were not just normal tourists to be ferried from one Instagram site to the next and offered us an extra with a visit to Koh Ya Wa Bon island. There is a small, idyllic cove with a beach that boats are allowed to stop and we were only the second boat there. The water was warm and clear, this was more our style of island!
Then we re-traced our route across the bay back to Ao Nang. It was an enjoyable trip at THB.2,500 just for the 2 of us in a traditional long-tail boat. The visits were sadly very commercial but the views still spectacular! With a private boat one does enjoy more flexibility and can do what one wants, however the quality of the visits was poor and before my next trip I will research some alternative places to visit. You may also like to read our article on the long-tail boat experience from Phang Nga here….
Comparing the two boat excursions two weeks later, I find a lot of pictures from Phang Nga and not so many from Ao Nang. The sights in Ao Nang, whilst beautiful, are quite disappointing and as a result I found that I did not take that many pictures for the Blog, and, I guess that that indicates my preference.
The 'Instagram' effect however is wonderful and I leave you with an album of her favourite pictures of our trip!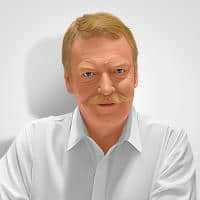 Kim Waddoup
Founder
Kim Waddoup enjoyed a lifetime in the tourism business and is an active 'Silver-Ager" living in Thailand. He writes for his age group with high varied articles covering subjects relevant to retirees living in, or visiting Thailand. Any questions or comments on this post? Please do feel free to contact me through our 'Contact Form' or directly [email protected]