Updated 04 Jan 2021
Pattaya and it's Beaches Explained. There are 7 main beaches in the immediate Pattaya area, where to find the best beach for you
Pattaya may have a rather nefarious reputation but if you are looking to get out of Bangkok and visit a beach, it is one of the closest and easiest to get to plus the choice once you are here is quite large. With the post-Covid situation, changes are happening every day. At this time no international visitors, just locals, so everywhere is very quiet but busier at the weekend, especially Jomtien.
My suggestion is to take the Motorway as this is straight from BKK right into the centre of Pattaya. There is a Toll Booth to collect your ticket just after Suvarnabhumi airport and the next stop is the Toll Booth just outside Pattaya. It costs THB.105 each way. If you want to take a break on the way, there is a large service area about half-way with a vast variety of food and beverage outlets. This is the only place to get petrol on the route. Journey time is about 1.5 hours. Soon after the second toll booth you arrive in Pattaya and you will see directions to each of the beaches in the text. From North to South you have the choice of many beaches.
Wong Amat Beach is a large crescent beach with limited access, so not so many people. It is in the Naklua area which is where many up-market condominium buildings and resorts are located. Beautiful sand, relatively quiet with limited water sports (speed boats/jet skis). Wong Amat Beach does boast an excellent seafood restaurant, be sure to visit Rim Talay Seafood. As you arrive in Pattaya, at the first lights turn right along Sukhumvit, take North Pattaya Road and turn right to Naklua just after Terminal 21 Shopping Centre. Follow Naklua road and turn right on Soi 16 or 18. There is only street parking and follow the alley way to the beach.
Pattaya Beach is a large crescent expanse of sand with the sights rather spoilt by the number of restaurant boats moored in the middle, but it is impressive! Sun beds and umbrellas are located on the edge of the beach and there is, currently, ample roadside parking. If you are going for a swim, wear flipflops as it is quite a walk to the waters' edge and the sand does get hot! As you arrive in Pattaya, at the first lights turn right along Sukhumvit, take North Pattaya Road and go straight as you pass Terminal 21. This leads you directly onto Beach Road.
Cozy Beach is a gem if you are looking for a beach without the crowds. Not so easy to find but once you are there you can almost enjoy your own private beach. There are sun loungers and umbrellas for hire but no other facilities, however on the cliff above you will find the Chocolate Factory and the impressive Sky Gallery with it's excellent service, cuisine and views. Cozy beach is located in the Pratumnak area, take the road opposite Big Buddha and follow the signs to Chocolate Factory and Sky Gallery. Parking is available on the street. The steps down to the beach are located at the end of Chocolate Factory, be careful as they are a bit uneven but the beach is well worth it!
Update 04 Jan 2021
Just before Christmas two spectacular venues joined Chocolate Factory and Sky Gallery. These additions are the For Rest belonging to Sky Gallery and the spectacular 3 Mermaids. I have not tired the food yet but the construction and ambience is quite amazing.
Hu-Gwang Beach offers total seclusion. It's a small beach and access is down a rather forbidding concrete stairway, but the beach is a pleasant surprise. It does look as though it has seen better days, but it is a gentle, sandy beach with very few people. There does appear to be 1 vendor with a few sun loungers and surprisingly there were even 2 Lifeguards on duty on the day of my visit. There is a quaint little local restaurant and the Birds and Bees resort with its' Cabbages and Condoms restaurant. From Pratumnak Road take Soi 4 right to the end. There is parking and look for the steps on the right down to the beach.
Pratumnak Beach is less commercialised and relatively secluded with few people. There some vendors with umbrellas and sun beds but there are also a lot of trees. Generally, not busy during the day but quite a gathering place for local Thais to meet in the late afternoon. Ample street parking, Sands Café located on the beach and several other small eateries close by. Try Zabb if you are looking for great Isaan food. As you arrive in Pattaya turn left onto Sukhumvit road, at the third set of traffic lights turn right onto Thep Rasit road. At the lights at the end, turn right. At the next lights turn left. About 200 meters further turn left onto Soi 5 and follow this straight down to the beach. From Pratumnak beach you can walk along the promenade to Dongtan Beach and into Jomtien.
Dongtan Beach is a really lovely beach and as it has limited vehicle access it remains relatively quiet. There are trees all along the beach offering plenty of shade. There are some vendors with umbrellas and sun beds but these are currently limited. If you are looking for peace and quiet on a beach, this is probably the best choice. You will have to park your car, but it is well worth it. Dongtan Beach can be reached on foot from Pratumnak Beach, but it is best to turn left at the end of Thep Rasit road then right down to the Police Box on Jomtien beach. At the Police Box turn right (by 7-11), there is a small parking area here and then walk along the beach. The Pirate Bar offers good snacks and The Sand Bar is highly recommended for high level food, pastries and coffee.
Jomtien Beach starts from the Police Box at the end of Thappraya Road and continues for more than 6 kms of wide, open beach. There is ample parking on the promenade and vendors with umbrellas, chairs and sun beds. Just find a parking space and you will be looked after. The beach is wide open and friendly, when the tide is out there is sand as far as the eye can see. Even when the tide is in there is a great atmosphere with plenty of shade from the trees. Vendors can bring you most food choices and just across Beach Road are a vast variety of excellent restaurants.
As you arrive in Pattaya turn left onto Sukhumvit road, at the third set of traffic lights turn right onto Thep Rasit road. At the lights at the end, turn left then right at the next lights. Continue to the Police Box and turn left onto Jomtien Beach Road. The further you proceed down Beach Road, the less commercial it becomes though restaurants are to be found down the entire length.
As mentioned, Jomtien Beach Road continues South for 6 kms. It gradually gets narrower as you go further South but there is always parking and restaurants. It ends rather unceremoniously at a fish restaurant! You can walk further in the beach but the road heads in-land. There are more beaches here and I will be exploring them in my next article.
If relaxing with an excellent coffee with beach views is your idea how to enjoy some time, then the Branch Café under a massive Banyan tree about halfway down Jomtien Beach Road, is highly recommended next to the Siam Commercial Bank close to Soi 11.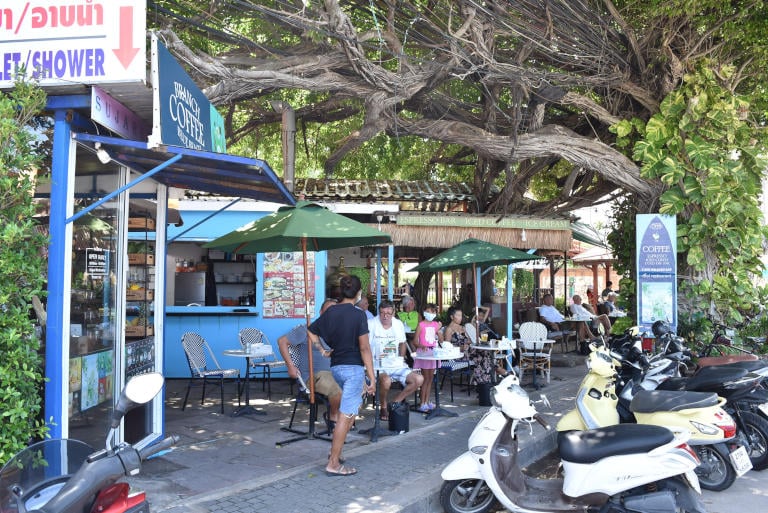 Water Quality To date my research has not found any reliable rating on the water quality of Pattaya's beaches. Given that the estuary of the Chao Phraya River is just a few kilometres to the North and the Bangkok and Laem Chabang harbours are not so far away, one cannot expect particularly high water quality, however many people do swim in the sea (including myself) and I don't find it any worse than many other beaches around the world.
Please do remember that smoking is not allowed on any beaches in Thailand and this is enforced. Whilst many Guesthouses and smaller resorts have re-opened, the majority of the larger hotels remain closed. I recommend Booking.com for reservations as their descriptions are generally very accurate and the location information is correct. However, do check that the property will be open once you have made your reservation as the situation is ongoing.
For general information contact the excellent Tourism Hotline on 1672 in English
This article has been prepared for my Meandering Tales blog and the original article can be seen at www.MeanderingTales.com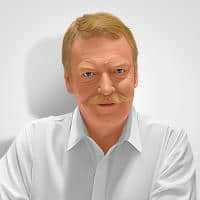 Kim Waddoup
Founder
Kim Waddoup enjoyed a lifetime in the tourism business and is an active 'Silver-Ager" living in Thailand. He writes for his age group with high varied articles covering subjects relevant to retirees living in, or visiting Thailand. Any questions or comments on this post? Please do feel free to contact me through our 'Contact Form' or directly [email protected]