The Quest to find Pattaya's best coffee (Part 2)
Probably the most cosmopolitan Café in Pattaya and possibly all of Thailand. Great atmosphere and excellent coffee too!
Take a resplendent, century-old Banyan tree on Jomtien Beach Road, build a small shack beside it and add 8 comfy chairs directly on the pavement. Import a professional espresso machine from Europe, select a special coffee blend, switch on some smooth jazz and you have one of the most laid-back, relaxed almost Mediterranean/Adriatic style cafés in Thailand. If you are lucky enough to be able to take one of the coveted chairs at the front, you will be able to enjoy the shade and energy from the tree and will be rewarded with a view through to the sea, with every sort of motorised transport passing. It is a continuous cabaret!
Here they serve a special blend from Chiang Mai. It's an Arabica Typica bean cultivated by the hilltribes. My double shot espresso was slightly larger than a regular espresso. This means that more hot water has been squeezed through the ground beans. Purists state that a double shot espresso should be made with 14-22g of coffee to serve a 20-30ml drink including the crema. Whilst possibly a little too much water, Branch Coffee Beach managed to preserve the quality and robustness of the flavour to produce an excellent double espresso for THB.60.- I have since returned and enjoyed a near perfect espresso!
Presentation: Large volume, smooth creamy Crema: Aroma: Dark chocolate, butter and a hint of vanilla: Taste: Pleasant acidity, mellow, mild to strong, yet good flavour: Mouthfeel: mellow, strong body, diverse flavourings;
Aftertaste: hints of roasted cereal/malt, neutral remnants.
Rating on the MT Coffee Scale: 87 points
Branch Coffee Beach has almost a Bohemian air with regulars and visitors enjoying a specific ambiance created by the impressive Banyan tree, professional coffee with impressive tastes and such friendly service from Lek and New. If you can't get one of the chairs at the front they have more seating, so don't despair. Highly rates for uniqueness, ambience, friendly service and of course excellent coffee!
Author's note: To create a conform rating, I am making tasting notes on a double shot espresso. Naturally all establishments offer multiple variations of coffee based drinks in addition to a full choice of alternative beverages and snacks!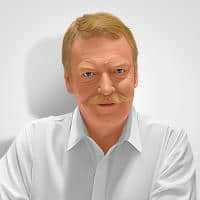 Kim Waddoup
Founder
Kim Waddoup enjoyed a lifetime in the tourism business and is an active 'Silver-Ager" living in Thailand. He writes for his age group with high varied articles covering subjects relevant to retirees living in, or visiting Thailand. Any questions or comments on this post? Please do feel free to contact me through our 'Contact Form' or directly [email protected]