Special Wine and Dine Dinner at May's Urban Thai Dine, Jomtien, nr. Pattaya, Thailand. July 2020
I love food, wine and good company and these were the basis of my earlier gourmet experiences in organising the Moscow Good Food Club. Having retired and moved to Thailand I had been searching for the opportunity to indulge in my culinary pursuits and was pleasantly surprised to receive details of a special dinner with wine pairings at one of Pattaya's most progressive Thai restaurants, May's Urban Thai Dine.
May's Urban Thai Dine is conveniently located on Thep Prasit road, in Jomtien, just a short drive down the motorway from Bangkok. May has created quite a reputation in Thailand for the creativity of her Thai food, based on her traditional background and the use of home-grown, organic products. The interior is subdued, modern but retains rural origins. The guests arrived and soon our host, the adorable May, asked us to take our seats. The table was festively decorated and we eagerly awaited our first dish of 'Grilled Red Snapper Topped with Young Chili & Ginger Sauce'. Top marks for presentation in using the fried fish skeleton! The fish meat had been reduced to a soft texture, with concentrated flavour and the chilli and ginger sauce added perfect flavours. This first course was accompanied by a Château Routas Rosé Rouvier AOC from the Côte de Provence in Southern France. This is a popular style AOC Coteaux Various en Provence that was pleasant, with light berry fruit aromas with a hint of mint? Nice and dry with a crisp finish this was an ideal pairing to the Red Snapper.
The second course was 'Slow Cooked Beef Sausage serviced with Nam Jim Jiew'(spicy Isan dipping sauce). A simple dish that was superbly presented with a bouquet of herb leaves. The sausage bursting with flavour and the dish followed traditional principles with the herbs, green chilis and ginger. A knife would have been appreciated and the ginger was unfortunately hidden below the green and many discovered this vital enhancement too late to fully enjoy the robust flavours presented in. The Routas Rosé was also a perfect pairing.
The third course was Grilled Eggplant with Soft Boiled Egg served with a Soya Bea Sauce. Again, beautifully presented and decorated. The aubergine was crispy with a lot of flavour and the Soya Bean Sauce presented some real Thai spicy flavour to this dish that was paired with a Alois Lageder, Pinot Grigio Porer DOC from the Alto Adige region of Northern Italy. This wine caused a little confusion as in the lighting it looked more like a Rosé! Whilst definitely a white, wine some discussion suggested that this hue may be a result of it's heritage as thought to be a mutant clone of the Pinot Noir grape variety. This was however a classic Pinot Grigio, medium bodied, quite rich with delicate aromas from a strong bouquet. Another excellent pairing.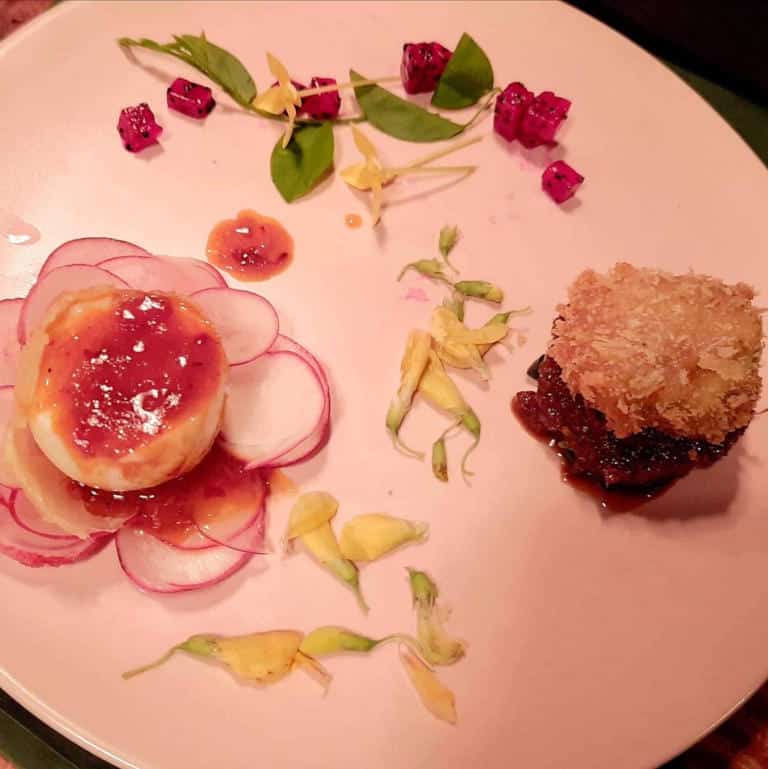 This was followed by Slow Cooked Pullet marinated with Shrimp Paste and Pineapple in an Aroma Curry sauce. Once again highly creative presentation in a section of Bamboo. The pullet skewer was soft, succulent and full of delicate Thai flavour with the baby pineapple providing a strong contract to the curry sauce. The Pinot Grigio was again well paired.
Course number 5 was Fresh Lotus Flower and Banana Blossom Salad with Crab Meat and Homemade Chilli Sauce. To marks! This was an exquisite dish of crispy lotus and banana flower served in a banana blossom boat with succulent chunks of crab meat complemented with the chilli sauce. Subtle favours served together to produce an extremely inventive and delicious dish. Paired again with the Pinot Grigio the wine had unfortunately lost its initial crispness but still a pleasant pairing.
Sour Curry Soup with Moringa and Clams was the next course, again with creative presentation with the soup being poured over the clams at the table. Many of the recipes from the South of Thailand incorporate sour flavours (some are extreme) and these pungent tastes have become favourites of mine. Whilst the clams were wonderful, somehow the sour Curry soup proved to be just too sour even for me! It had almost a pungent turmeric flavour though I was informed that this was a pineapple reduction. It was a bold and inventive dish, but dod not work for me personally. Interesting to note that this was served with Moringa that has so many health benefits. The Ceretto Langhe Amels Blange from Piemonte was probably the star wine of the evening. A superb white wine from the Arneis grape produced in the Piedmont which was formally exclusively only red wine! The wine was fruity with mineral aromatics creating a balanced freshness that was bursting to be enjoyed!
A brief repose saw the Kaw Kamin with Mango Ice cream being served. Again imaginatively presented and whilst the Mango was tart, possibly a sorbet would have helped cleanse the palate especially after the sourness of the previous course.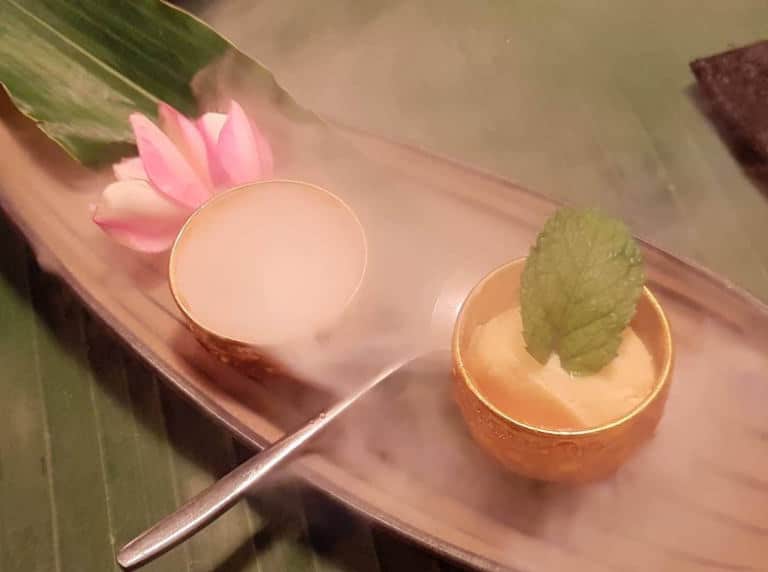 Before the feast commenced, we were asked to make our choice for main course. These were Chuchee Chowpaya River Prawn served with Ginger Rice or Slow Cooked Beef in Gaeng Rawang Curry with Dill, Baby Galangal and Cumin Leaves. The Chowpaya River Prawns from Ayuttheya were superb. Soft and delicate with hints of so many herbs. The Ginger rice was an interesting flavour and texture that well complemented the prawns. The Gaeng Rawang Curry was a wonderful concoction of spices producing almost an Oriental flavour. The beef was unfortunately not as tender as it should have been, but both dishes were excellent in presentation and flavours.
There was some confusion with the wines at this point as a Primitovo should have been served with the curry and a Langhe Nebbiolo with the prawns. Not being sure which wine was consumed it is hard to make a comment. Which ever it was, if was robust, full flavoured and well paired.
The finalé of the evening was Spiced Red Wine Poached Pear with Vanilla Ice cream. The description does not do this wonderful composition justice. It was a perfect dessert to the culmination of a creative, well balanced and superbly presented meal. The dessert was paired with a Moscato Blancospino which, whilst pleasant could have presented more astringency to fully complement the sumptuous dessert.
Mays Urban Thai Dine is a relaxed dining style with an emphasis on creativity utilising original and organically produced Thai herbs and spices. The dinner presented a journey through Thailand appreciating the vast choice of uniquely Thai flavours. The service style is quite relaxed and whilst the staff were extremely friendly a small amount of professionalism was lost. This just is a small area that can be corrected for such an exceptional dining experience.
Congratulations to May and her team. Job very well done!
May's Pattaya, Then Prasit, Jomtien, Pattaya, Thailand. Facebook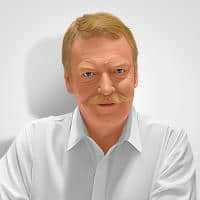 Kim Waddoup
Founder
Kim Waddoup enjoyed a lifetime in the tourism business and is an active 'Silver-Ager" living in Thailand. He writes for his age group with high varied articles covering subjects relevant to retirees living in, or visiting Thailand. Any questions or comments on this post? Please do feel free to contact me through our 'Contact Form' or directly [email protected]