Product Endorsement: Sounds too good to be true? I am now convinced and use the Aqua O3 portable spray daily
So often we are subjected to astonishing claims about a product that can change not only our lives, but the environment as well. Many of these implausible products have come and gone leaving just a cynical vacuum of non-believers like myself. Some products however, can really do what they claim.
I have long struggled with a skin complaint that was a form of heat rash/prickly heat. Whilst the medical treatment received was excellent and the symptoms reduced the rash continued. I was convinced that it was bacterial and whilst natural lemon-grass soap eased the symptoms, it persisted. Here is my original post.
My research had come across Aqueous Ozone and discovered a product that claimed to convert tap water into aqueous ozone (O3) combatting most forms of bacteria, viruses, pathogens, and other contaminants on a molecular level by oxidising them. Excited but very sceptical, I obtained an Aqua O3 portable aqueous ozone sprayer.
As instructed, I filled the device with normal tap water, charged the machine and sprayed on my arms not really expecting any great results. Within 2 days my skin rash was gone and whilst a few spots come from time to time, the heat rash is now completely cured. My research indicates that the Aqueous Ozone does not damage skin cells and quickly decomposes to oxygen without generating any harmful residues.
This handy, rechargeable spray has now become as essential as remembering to take my reading glasses with me! Research indicates that it can be used to sanitise my hands during covid and I have discovered so many other benefits. I clean my glasses with it, no smears and crystal clear vision, it's a natural underarm deodorant, it cleans my mouth, it removes bacteria growth in the bathroom, it cleans and removes harmful pesticides from vegetables, it removes mildew completely and more.
I fully endorse this product from personal use, no heat rash anymore and so many additional benefits. I have also shared with friends who are extremely happy with the results.
The aqua O3 portable aqueous ozone sprayer is available in Thailand. I would be please to provide more information on cost and delivery [email protected]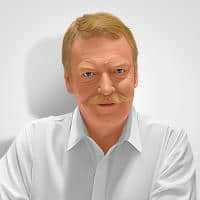 Kim Waddoup
Founder
Kim Waddoup enjoyed a lifetime in the tourism business and is an active 'Silver-Ager" living in Thailand. He writes for his age group with high varied articles covering subjects relevant to retirees living in, or visiting Thailand. Any questions or comments on this post? Please do feel free to contact me through our 'Contact Form' or directly [email protected]