The Gassan Group is the largest golf organisation in Northern Thailand with 3 challenging courses set in different locations. The group has quite a chequered history in the Chiang Mai area with many impressive over ambitious plans that have resulted in developments that have required corrections and revisions but, with some reservations, the results are impressive.
The Gassan Panaroma course is the longest in Thailand at 7,761 yards incorporating a par 6! It was constructed in 2006, then closed for very extensive modifications, re-opening in 2017 to host the Senior Tour, closed again for more modifications and now re-opened again! What is the result?
Words can hardly describe the fantasy style of the impressive clubhouse with its Arabian style, with a Thai twist. At the impressive entrance, impeccable Caddies greet you and are extremely attentive. The buggies are all brand new and one's expectations increase! We were again enjoying a promotional price of THB.1,300 per person including 18-holes, caddy and cart. Where is the catch?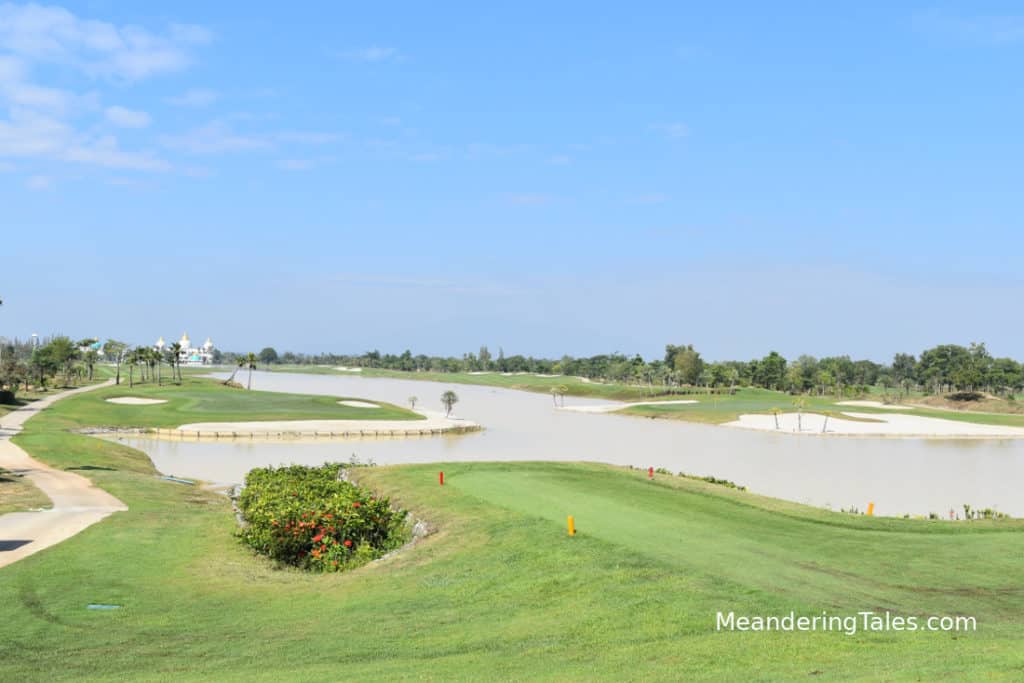 At the time of writing, the various re-developments has left the course without a restaurant and one could not even obtain coffee on arrival. Water is also only available at the Clubhouse though we did see work in progress at the half way house.
The course is superb, but initially it is hard to comprehend. A beautifully manicured course that is surrounded by on-going construction, scrub land and dead trees. Evidentially the amount of water has been reduced but the muddy ponds were somewhat incongruous to the course.
Enough of the negative, the course is superb. Perfectly manicured Tee Boxes, wide perfectly prepared fairways and perfect very challenging greens! I am not trying to be critical but rather to portray an exact impression of our round of golf. The course is beautiful and challenging to play, but the surrounding scrub land and on-going construction create stark contrasts.
Given time, this will be an amazing course with enchanting panoramas of the surrounding mountains. If the price is right and you can ignore the immediate surroundings, you will have an excellent golfing experience. We look forward to returning and up-dating!