Exclusive Private Chef's Table with Wine Pairing by Chef Fredi
Wine pairing is the delicate art of carefully selecting exceptional wines to accompany and compliment the dish, thus elevating the culinary experience. Skilled and suitable pairings enhance a dining experience heightening flavours, intensifying the textures and qualities in the food.
Chef Fredi is a legend in Pattaya opening Bruno's restaurant in 1996. He amassed vast experience in leading hotels around the world and is a Maître Rôtisseur. Since selling his famous restaurant, Pattaya's residents have been denied his impressive culinary creations until the idea came to create a new culinary tradition with a Private Chef Table at Crush Wines & Cocktails.
The menu and wine selection were outstanding creating a culinary event in Pattaya that exceeded expectations and has placed Crush Wines & Cocktails firmly on the gastronomic map in Thailand for quality and creativity.
Guests to the Private Chefs Table at Crush Wine Bar were welcomed with a cheerful Midori Mimosa cocktail and had an opportunity to meet Chef Fredi before seating punctually at 19:30
The opening course was a Duo of Salmon, Home Cured Gravlax and Norwegian Smoked Salmon with a Truffle Potato Salad, Honey Mustard Sauce and Horseradish Cream. The two variations of salmon each had their own specific texture and flavour and were well accompanied by the influence of the superb Honey Mustard Sauce and Fresh Horseradish. The truffle provided immense flavour to the potato salad. An excellent starter that was paired with a Domaene Wachau, Federspiel Terrasses Riesling from the banks of the Danube in Austria. Well balanced with a refined structure it was excitingly fresh and crisp with suitable acidity for the Salmon.
The Curry Flavoured Chicken Cream Soup with boiled Chicken Julienne, Fresh Ginger and Chili was a true gastronomic adventure. It looked like a Thai green soup, but Chef Fredi's creation had textures and flavours that burst on the palate. Not too strong but each spoonful added new flavours to this amazing creation. Paired with a Tenuto Rapitalo, Conte Hughes Chardonnay from Sicily, with a nose of Mediterranean fruits. This almost creamy wine tasted mature and full of exciting aromas that invigorated the palate and proved to be an excellent pairing for the creamy texture and complex flavours of the soup.
A further sight and taste of Fredi's exceptional culinary skills followed! The Baked Puff Pastry Parcel filled with a Ragout of Duckling Breast, Cep Mushrooms and light Marsala Sauce, looked wonderful and provided deep, distinctive flavours of the duck and complemented with the Masala Sauce that had been reduced to perfection. The puff pastry could have risen more but the overall presentation and taste was again superb. Paired with a Tenuta Delle Terre Nere, Etna Rosso DOC, Nerello Mascalese the match was perfection. With a distinctive nose of ripe fruits and sweet spices the wine was fresh and one could almost feel the warmth and camphor surrounding Mount Etna. Beautifully balanced with a rich and extremely elegant finish. Perfection on the plate and in the glass!
A short pause was in order as we cleansed our palates on the crisp and fruity Passion Fruit Sorbet served in passion fruit shells. This allows the first 3 courses to settle and prepare the stomach for the next round!
A spectacular dish followed. Angus Beef Tenderloin & Sliced Iberico Pork Pluma Steak with a Rioja Jus with Garlic Flavoured Mashed Potatoes, Snow Peas and Baby Carrots. Crush/Pepper & Salt is making a name for the quality of the steaks served here, and this was no exception. However the star was the delicate pork flavour of the Iberico pork. Soft, tender and a little fatty, this has to be one of the most flavoursome of meats and superbly prepared with the Rioja jus. The garlic mash was another clever feature bringing even more flavours to this glorious dish.
Possibley the wine star of the evening was the San Polo Brunello Montalcino DOCG 100% Sangiovese grape. An intense ruby-red wine, warm and full bodied on the palate with ripe, firm tannins which were finely balanced by its lively acidity creating a majestical long and well-rounded finish that fully complemented the Angus steak and especially the Iberico pork. Superb pairing!
The Chef was not finished with us, and the next plate was a selection of fine French and Italian cheeses with Chutney, Dried Apricot, Grapes, Blueberries and Dates. The cheeses were quite unusual in Thailand and were Taleggio with its strong aroma yet relatively mild taste, Brigante a Sardinian sheep's cheese, a soft, mature French Brie and a Zarpelon Grana Padano. An eclectic mix of exceptional and unusual cheeses but slightly lacking with the toasted brioche that lacked substance to these delicate flavours. The Cheese Plate was paired with a Villa Anitori Chianto Classico Reserva 95% Sangiovese. Lighter than the Brunello, this proved to be a perfect pairing for the cheeses with its intense ruby colour, intense nose of red fruits. Vibrant on the palate with subtle tannins it paired both with the cheeses and the condiments.
Not finished with the diners, the dessert was supplied from their in-house Le Bakery. Warm Chocolate Souffle and Vanilla Ice Cream decorated with Strawberry Jam, Fresh Strawberries and Kiwi. A veritable feast for the eyes and a dessert worthy of some of the best restaurants. The souffle was amazing, slightly crisp on the outside and when cut, it oozed dark Belgian chocolate which mixed admirably with the rich vanilla ice cream. An amazing dish to end and incredible culinary adventure.
The De Bortoli Noble One dessert wine was paired with this superb dessert This wine is still one of the most awarded Australian wines of all times and has claimed the title of Australian Botryis dessert winemaking. It proved to be an elegant, rich and honeyed with a rich array of flavours. A final and superb pairing.
Chef Fredi had created a superbly balanced gastronomic journey through the 7 courses. Each dish was carefully created and prepared by Executive Chef, Albert Casulocan. Tremendous attention has been given by Crush Wines & Cocktails
to pair exceptional wines with each dish. The standard for Pattaya wine dinners has been raised substantially with this integration of talent! Look out for future Private Chef's Table and Celebrity Chef wine dinners in the future.
https://www.facebook.com/crushpattaya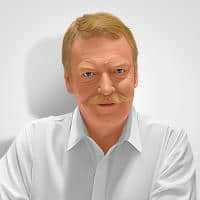 Kim Waddoup
Founder
Kim Waddoup enjoyed a lifetime in the tourism business and is an active 'Silver-Ager" living in Thailand. He writes for his age group with high varied articles covering subjects relevant to retirees living in, or visiting Thailand. Any questions or comments on this post? Please do feel free to contact me through our 'Contact Form' or directly [email protected]