How I benefited so much from the Qatar Airways Loyalty Card on my recent flights
I have been flying most of my life, mostly short haul but in the last years more long-haul especially to and from my home in Thailand. In the past I have collected miles on several airlines or alliances. I never had much success as the number of miles where never that high. Towards the end I gave up and started using no-frills airlines, not expecting any service or loyalty benefits.
I tried several airlines to Thailand and then discovered Qatar Airways mainly as their connections were most convenient. I was impressed with the quality of their aircraft and the level of service so I joined their frequent flyer programme and started gathering points or Avios as they are now called. I first received my Burgundy Card and soon after my Silver card.
It is well worth obtaining the Qatar Airways Card and start collecting miles as the benefits immediate and excellent. I can check-in in the Business Class line and not at the long Economy Class line. In most airports they offer their card holders fast-track and the use of a lounge. These alone are most worthwhile extras and make the entire Qatar experience much more pleasurable.
Then came Covid and I stopped flying. I must compliment Qatar on their service during this time as they guaranteed to honour my points and miles, despite the fact that some were due to expire.
I have now just completed my first flights post Covid and have been delighted with continued excellent service. Bangkok to Doha and then Doha to London, use of lounge, priority boarding and a special welcome on-board as a silver member. On my return flight fast-track at Gatwick, excellent lounge and on priority boarding I was extremely pleased to be upgraded and enjoyed the first leg of my journey with the comfort and service of their superb Business Class on the Boing 787-8.
On arrival in Doha I was advised of a 5 hour delay however again Qatar made the delay more enjoyable with the use of their excellent Al Mourjan lounge for Sliver Card holders. On checking in for the flight in my favourite A-380 I was totally amazed to be upgraded again! Thank you Qatar, now you will always be my no.1 airline.
Business Class on the A 380 is an amazing experience. Whilst there are 60 seats there are so many attentive staff that every need is satisfied. The menu is excellent and with their a la carte feature where you can choose when you eat. Qatar's wine list is incredible and a great read with several interesting and classic wines.
The pod/seat is extremely comfortable and folds flat for sleeping. Luxury at 39,000 feet!
I had almost forgotten their bar and on a visit to the bathroom was quite surprised to enter the fully equipped bar with a stunning stewardess ready to serve me whatever my heart desired.
The Qatar Airways loyalty cards offer an immense number of benefits at check-in, fast-track and lounges. I had not been so up-graded in the past and it made my return trip a most enjoyable experience. Not only did I enjoy all these services but I also earned more miles and points for future travel.
This is a Testimonial to superb service and the understanding that Qatar Airways employs to maintain its customers. Congratulations Qatar Airways. I will be highly recommending you and I will be booking again soon!
To check fares and book with Qatar Airways, use this link…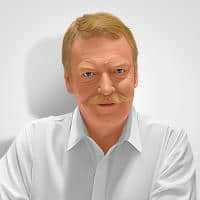 Kim Waddoup
Founder
Kim Waddoup enjoyed a lifetime in the tourism business and is an active 'Silver-Ager" living in Thailand. He writes for his age group with high varied articles covering subjects relevant to retirees living in, or visiting Thailand. Any questions or comments on this post? Please do feel free to contact me through our 'Contact Form' or directly [email protected]