Mae Hong Son Loop – One of the world's best Road Trips
I had heard about this amazing drive in Northern Thailand some time ago and had added it to my bucket list. With the easing of travel restrictions November 21 seemed an ideal time to go with excellent weather and very few people travelling.
The Mae Hong Son Loop is a route that starts and ends in Chiang Mai. It travels through a total of 1,864 curves along it's 650 km length. Lauded as one of the best motorbiking routes, almost all the information that I researched was for bike fans and I even started to wonder if it was also possible to travel by car! In fact, these are normal, open roads that are open to any road user!
We started in mid-November 2021 from Chiang Mai. The main road north, the 107 was actually quite busy but once we turned left onto the 1095 we left the weekend traffic behind. After a short ride through the valley floor, the road starts to climb and twist, this became the driving experience for the next 5 days. Narrow roads, lots of very tight corners, first climbing and then descending as we passed through numerous mountain ranges.
The first day is a good introduction as the corners become continuous but the road is of reasonable size and is in, generally, good condition. There are few viewpoints on this first section to take in the views and after approx. After 150 kms and 762 curves we arrived in Pai.
Pai is an amazing little town, located in a valley and surrounded by mountains. There are many places here for scenic photos and it is highly recommended to drive up to the Yun Lai Viewpoint twice! It's quite a steep drive through an interesting Chinese hill-town. Once at the top there is a large café where you can either come to take in the splendour of the valley or return in the early morning for the sunrise. Entrance charge is THB.20 and the view is spectacular.
Down-town Pai is a lively place with quite a choice of very well priced restaurants. On the day that we were there, the night market had just opened with some interesting local hand craft. We stayed at the rather lovely Pai Iyara Resort which offers bungalows with wonderful views over the rice fields. The bungalow was well equipped, comfortable and quiet. An excellent breakfast was included.
The second day is when the amazing scenery really becomes apparent as one drives toward Mae Hong Song and there are many opportunities for some spectacular shots. We decided to leave the 'main' road and deviated to visit the Tham Nam Lod or the Nam Lot Cave. This is found down a small but beautiful road through rural settlements and lush forest. At our time of visit (Nov 21), only one of the 3 caves (total 1,666 meters) could be visited due to high water levels. The cave that we could visit was spectacular and hard to appreciate the size, splendour and the centuries that it had taken for the Stalagmites and Stalactites to form. On the most famous of the caves, you take a bamboo raft through the cave.
Having returned to the main road another deviation was taken up the narrow and winding road to the Pang Mapha viewpoint and the un-forgettable Dekdoi Coffee at Ban Jabo. Located high on a ridge this wooden café offers the most amazing panoramas of the surrounding mountains. There are no seats, just a shelf for your coffee and your legs dangle above the trees way below you. They do serve food and their coffee is an excellent local Jabo blend.
Again returning to the main road we continued to Mae Hong Song(total about 150 kms) where we stayed at the lovely Jeerang Countryside Resort.
Mae Hong Song located at 1,200 metres above sea level is a little disappointing after the atmosphere of Pai and did not really have much atmosphere. However, in the morning we did visit the Wat Phra That Doi Kong Mu temple above the city to see the two unique chedis of the temple and the Burmese style lion statues. It is an inspiring spot and the views over the city and its airport are spectacular. The Temple is also a revered place for motor cyclists from around the world. No driver whether it be by bike or car can leave Mae Hong Son without visiting the local Chamber of Commerce to collect your personal 'Certificate of Conquest' which commemorates to achievement of having conquered the 1,864 road curves
Leaving Mae Hong Song our first call was to the enchanting Su Thong Pae Bamboo Bridge. The bridge is entirely made of wood with a laced bamboo pathway. It crosses the rice fields to the Tham Poo Sa Ma temple. It is an idyllic place, we met just 2 other people here and the rice harvest was in full swing below us. Crossing the bridge we were blessed by 3 monks in their saffron robes crossing towards us. An incredible photo opportunity. The Temple is lovely to visit, relatively simple and sull of some interesting characters. There is a small café there and enjoying an espresso which bathing in the view is another wonderful experience.
Our voyage continued up the 4001 we climbed more hills and started driving though mountain plateaus. Again the rice harvest was in full swing adding small figures in the scenic rice fields. Our destination was Ban Rak Thai, an enchanted Chinese Village nestled around a lake at an elevation of 1,800 meters. It is very remote so few travellers make the journey, however if you don't have a reservation you are unlikely to find accommodation as with so few rooms it sells out fast. We were extremely lucky to have secured a room due to a cancellation. There are two main hotels that dominate the village. Cottages are built in Chinese style up the hill and surrounded by tea plantations. It is a wonderful place to stay a night and the lake makes an enjoyable stroll.
Returning from Ban Rak Thai we deviated into the Pang Tong High Land Royal Development Centre. Built to promote agriculture in the highlands it is a vast complex high in the jungle. There is no information available in English but it appears that you are free to drive everywhere which is how we did end up at the end of a road next to the past Kings mountain home(Pang Tong Palace) and walked across the helicopter landing pad. You may notice many wild looking Coffee plants here. These have a rather unique method of being harvested as the area is conservation area for the Asian Palm Civet. This breed picks and eats the ripest coffee beans which are then partially digested before being secreted. These are then collected, washed, and dried before they are roasted. To my great disappointment there was no opportunity to either taste or purchase this unique coffee!
Departing Mae Hong Song we again started our climb into the mountains. It's a good road with some Viewpoints to stop and take photos. Our primary destination was the Tung Bua Tong Sunflower fields. You can read my full article here (LINK).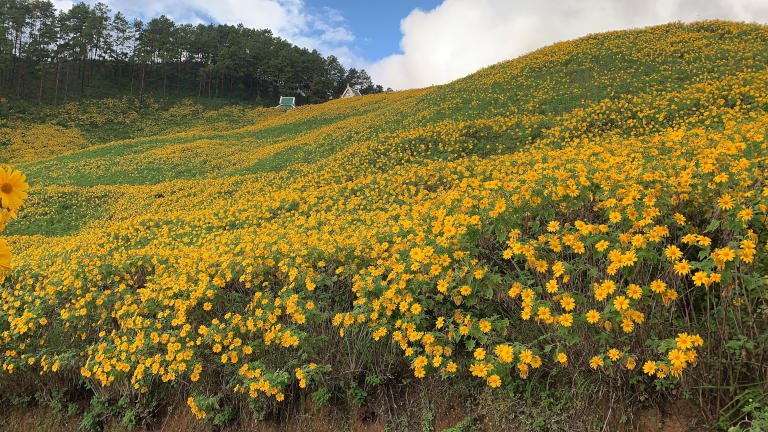 After a wonderful few hours amongst the Sunflowers, it was about a 3 hour drive to Mae Sairing for an overnight stay at the Mitaree Hotel.
Mae Sairing probably deserves a return visit. It is an interesting river side town with minimal tourist influence. Featuring many old teak dwellings. We were unlucky with our choice of breakfast cafés as all were either closed, being renovated or not serving food. So on with the journey.
Our plan for the final day on the Mae Hong Son loop was one final mountain road to Ban Mae Sam Laeb which is located on the Salween River. The condition of the road was deteriorating fast and at just 17 kms short of our destination we decided that the road was not good and were forced to retreat our steps. One is however rewarded with a beautiful view of the River Yuam Valley during the descent. 
To complete the Loop one has to continue through mountain roads as one continues to the interestingly name town of Hot! By this time we were quite exhausted with mountain travel and decided to leave Doi Intanon for another day and head back to Chiang Mai.
The Mae Hong Son loop is a fascinating journey and one that will leave lasting impressions and I would like to add some practical points. I have seen that very small motorbikes are offered for this drive. These are serious mountain roads with little facilities between the towns. Small motorbikes may sound fun but I would personally, not recommend. I am not a biker but I can see that this must be an amazing trip for enthusiasts. We made the loop by car, it was comfortable as we could transport all our luggage and rest when we wanted. If you are renting a car don't rent the smallest, whilst it will probably make it up and down these curves it will be a struggle. Take a mid range car and automatic. An SUV is not really necessary.
Whilst there are regular filling stations on the towns that you visit, there is little in between. We used every opportunity to fill the tank and have the re-assurance that we could keep going.
Make some research before to start and highlight the main sights that you want to see. There are many deviations available and as all our mountain roads these will take time.
Finally, coffee! I am a coffee fanatic and knowing that Chiang Rai is a major producer of high-quality coffee I was excited to be able to sample good coffees on the road. Unfortunately, whilst there are many coffee shops, the majority are just paying 'lip-service' to high quality coffee. Whilst most of the coffee is local there is little knowledge of the blend or when it was roasted resulting in some very flat and stale espresso. Imagine my shock when one lovely coffee shop with a superb view was actually using cheap wholesale coffee from one of the major super-market chains. The cake was excellent, the view superb but the coffee was awful!
Enjoy the Mae Hong Son loop, it is an amazing part of Thailand!