Maybe one of the most spectacular sights in Thailand, the Thung Bua Tong Sunflower fields
Sometimes Instagram-type photos can be luckily taken with perfect weather and lighting. Some of these 'idyllic' shots can cause over reaction in our judgement and increase anticipation. The result can be that when we actually see the object with our own eyes, the 'real' sight does not live up to the perceived images or our embroidered expectations.
Whilst I have been wanting to visit Thung Bua Tong Fields at Doi Mae U Kho, I was slightly concerned that this maybe a case of over expectation but was jubilant to discover that, in reality, this spectacular sight was much more that I had ever anticipated. It has left deep impressions.
From Khun Yuam on Route 108 turn up further into the mountains on route 1263 it's a good road that twists and climbs for about 25kms. Finally, at an altitude of 1,600 meters one starts to see the yellow hillside and shortly one is surrounded by the masses of bright yellow 'Sunflowers'.
Commonly known as the Tree Marigold the plants are from the family Asteraceae and also called Mexican Sunflowers and Nitobe chrysanthemum, amongst others. Whether they are true sunflowers or not is irrelevant as one leaves the car and is enveloped by this cornucopia of 2-meter+ tall swaying bushes of yellow delight.
The development here is quite tasteful. Yes, there is a winding road that passes through these fields, but traffic is minimal and respectful. There are a variety of trails that one can explore through the tunnels of flowers. Conveniently placed view-points afford magnificent vistas over the flowers to the surrounding mountains. Whilst there are toilets there are no commercial shops or cafes to disturb the scenery or clear alpine air.
The flowers bloom at their best sometime between the beginning of November until the second week of December. We visited on November 16th and I believe that the conditions could not have been better. One is recommended to visit either early morning or late afternoon (as we did), to enjoy the best views. It really is breath-taking, awe-inspiring, almost surreal, hypnotic and even spiritual as one attempts to absorb all that one is seeing within an aura of quietness and respect from the other visitors.
It is a photographer's dream, and one could probably spend 24 hours there to take in both the sunrise and the sunset. I believe that it is possible to camp, and a simple mountain resort is relatively nearby but apologies, I did not get the name
For me it was one of the most inspirational sights that I have had the privilege to witness. I have heard it likened to the alpine meadows from the Sound of Music, but this does not do the Bua Tong Sunflower Fields justice. They are magical and we were truly so fortunate to visit when we did with the flowers in full bloom, spectacular panoramas over the mountains, a clear blue sky and few other visitors. Add this to your bucket list, no lifetime is complete without this experience.
Be careful when you visit, it would be so disappointing to arrive before the flowers are in bloom or when they are well past their best. It's a good drive from Mae Hong Son or Mae Sariang in addition to about 1 hour up the mountain and there is limited accommodation in the region.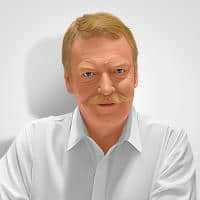 Kim Waddoup
Founder
Kim Waddoup enjoyed a lifetime in the tourism business and is an active 'Silver-Ager" living in Thailand. He writes for his age group with high varied articles covering subjects relevant to retirees living in, or visiting Thailand. Any questions or comments on this post? Please do feel free to contact me through our 'Contact Form' or directly [email protected]