Review of our December 22 Road Trip South to Surat Thani, Koh Phangan & Koh Samui containing many useful tips and recommendations based on personal experiences.
Thai islands and a Road Trip may not be synonymous, but the introduction of an overnight ferry from nearby Sattahip to Samui created ideas.in my head. Extensive research was conducted into a Koh Phangan and Koh Samui road trip as cars are allowed and ferries interconnected.
Within 24 hours of making my reservations, the Sattahip to Samui ferry was cancelled! To date I have not heard if this route will be re-instated. As we have planned and made research, we decided to bite the bullet and drive from Pattaya to Surat Thani (850 kms) and take the ferry from the Donsak pier.
It is a long drive but once you are through Bangkok and past Hua Hin, the roads become scenic and more enjoyable to drive. We had explored this area on a previous trip so the journey was just get to Surat Thani is fast as was humanely possible. Our first over night was in Prachuap Khiri Kahn at the simple but adequate Grandma Balcony directly on the seafront.
When we make road trips we rarely plan ahead, stopping at 17:00 to decide where we will stay. We use Booking.com for simplicity and price. I also sometimes receive some discounts and upgrades. I include links to the various properties that we use but rarely make reviews so you can read that our comments are adequate unless recommended.
From Prachuap Khiri Kahn to Surat Thani was a further 400 kms and en-route, near Chumphon, we discovered the very elegant, Italian styled La Palazza for a coffee break. We drive with no schedule and when we feel the urge for a coffee we just look at Google maps and see if there is an interesting coffee shop nearby. There are chain coffee shops in virtually every petrol station but being Coffee Fanatics we look for out of the way places with artisanal coffee and will often drive 45 minutes for a special espresso!
After an un-eventual drive we decided to stay in the Ruean Thai Nai Bang Resort due to its proximity to the wetlands area and enjoyed a very relaxing boat rip through the palms, mangroves and channels viewing Surat Thani on our little boat before returning to the Pra Cha Rat Temple for dinner.
There are some dubious ferries from the centre of Surat Thani on the Ta Pi river, called the 'night ferries'. These are the cheapest alternatives travelling through the night and arriving in the morning. As we wanted some comfort, safety and we wanted to take the car to the islands, we needed to proceed to the car ferries are both located 1 hour south at the Dansak Piers.
There are two companies Seatran Ferry and Raja Ferry , they are like chalk and cheese. The Seatran ferry terminal is first on the road and the Raja just a short way further on. We chose Raja for the outward trip to Koh Phangnan as I wanted to experience both to compare.
Their ships are old, unloved and in terrible condition pouring our thick black, polluting smoke for the entire trip. It was a 2 ½ hour experience and hard to get away from the ever present smell of the acrid smoke. Cost from Dansak to Koh Phangan THB.1,080 for car, driver and 1 passenger. We eventually arrived in Koh Phangnan and we happy to dis-embark rapidly onto the island!
With such poor facilities on the ferry(just 2 vending machines) we were hungry and in need of food and a coffee. It was just a very short drive to Nira's Coffee Shop where our requests were quickly dispensed and our first enjoyable on Koh Phangan.
So commenced our Koh Phangan Road Trip! Subsequent articles will delve further into our impressions advice and suggestions. Read on!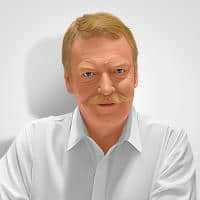 Kim Waddoup
Founder
Kim Waddoup enjoyed a lifetime in the tourism business and is an active 'Silver-Ager" living in Thailand. He writes for his age group with high varied articles covering subjects relevant to retirees living in, or visiting Thailand. Any questions or comments on this post? Please do feel free to contact me through our 'Contact Form' or directly [email protected]