24 hours on Koh Larn, Pattaya, Thailand
Koh Larn (aka Koh Lan & Koh Laan) is a small island in the Gulf of Thailand tantalisingly close, just 7 kms, from the major resort of Pattaya. It is a picturesque, hilly island about 4 kilometres long and 2 kilometres wide with a total area of just 5.6 square kilometres.
With its idyllic location and small island character, Koh Larn, unfortunately, became a victim of its own success with tens of thousands of day visitors visiting its quaint streets and clear beaches every day. Whilst many profited from this tourism onslaught, the environment and character suffered terribly. With the onset of Covid, the island was closed completely to visitors and whilst a massive blow to all involved in tourism, it has allowed the island to regenerate and to re-emerge to what it originally was. With regular hourly ferries, it is easy to reach the island and even with only domestic tourism it is already becoming busy at weekends and holidays. If you can, visit during the week.
My 24 hours on lovely Koh Larn
To get to the island you have the choice of speedboats or the ferry. All these boats leave from Bali Hai terminal and as you arrive you will be met by a substantial number of hawkers each trying to encourage you to choose their mode of transport. On my visit the speed boats were offering a per person price of THB.100 for a shared boat. The disadvantage is that you have to wait for the boat to fill. In pre-covid times the rent for the entire speed boat was THB.2,000-2,500(return). On my visit this week I was offered THB.500! However, my aim was to take the ferry and despite being a bit longer, just 45 mins, this is the best way to travel both to and from the island.
There are 2 ferries. One that goes to Na Baan which is the main town of the island, and the other to Tawaean Beach. The cost of each ferry is just a mere THB.30. My recommendation is just to take the next one that is leaving as the distance between the two destinations is minimal. The ferries offer open seating and the sea breeze is a great start to a mini vacation. My ferry took me to Tawaen Beach, so you have a view of Koh Sak and Ko Krok islands as you approach Tawaen Beach. The pier is a simple affair and really needs some urgent renovation. You will see what I mean as you take the elevated walkway to the shore.
If you are just on the island for a few hours then Tawaen Beach is ideal with its wide white sands, water sports and plentiful restaurants. My goal however was to explore the island. As you exit the pier you will be met by an eager crowd of hawkers hankering to rent you a motor bike, arrange a hotel or a restaurant. I simply just rented a motorbike. Such a easy transaction! Just pay THB.300, leave a form of ID and just drive away. No formalities at all. Please note that they do not supply helmets but as there are no cars on the island and the pace is slow, the risk is acceptable. I would also recommend taking photos of your bike as you receive it to avoid any later disputes. Do note, that especially in the north, there are some quite high hills. The roads are well paved and many built only for motorbikes. The only traffic that you may meet are the few pickup taxis on the island and tractors!
My aim was to explore all the island in an anti-clockwise direction. Leaving Tawaen beach you are presented with your first hill, just over the crest on the right is a small track leading to the Kuan Yin viewpoint and Big Buddha, overlooking Tawaen Beach. It is a spectacular view and worth negotiating the track. Returning to the main road this will then lead you to the main town. However, on the right a small, beach-style bar grabbed my attention as it was time for a coffee.
The Klom Klom Bar is really worth visiting. Decorated with beach flotsam and other antiques, it is a gem. Their coffee, made in old fashioned stove espresso makers, is excellent. It is a Chiang Mai blend, strong, pungent and with excellent flavour. In fact, the bar impressed me that I chose to stay close to it in the evening!
Driving a small motorbike through the island is really lovely as there is currently very little traffic just a few other people on bikes. The tracks are not wide, and you just don't drive fast. My first stop was at Samae Beach. Pre-covid this must have been a very busy beach with at least 20 restaurants and hundreds of sunbeds. Today it is extremely quiet and unfortunately not very welcoming. The beach is quite famous for the Ray Building part of a white elephant project to produce electricity through wind and solar power. So, continue to Tien beach!
Tien Beach is also looking sad with just a hand full of visitors. I parked in the shade of a tree only to be told that I can't park there! With less than a dozen bikes parked around I was not blocking anything. Unfortunately this, and the lack of cleaning both on the beach and along the edge of the beach did not encourage me to stay. I do appreciate that it must be difficult for people whose lively-hoods have been dramatically removed, but with visitors crawling back an effort should be made to clean up their immediate environment rather than just lounging in the shade and shouting at one of their less than 20 visitors that day! (Gripe over!)
The beach may be quite attractive when guests are there with a scattering of beachside restaurants and ample sun loungers and umbrellas. The return pathway led me through the heart of the island and ended back, almost at Tawaen beach. So, pass by Klom Lom Bar and enter the only town on the island, Na Baan.
Na Baan is quite charming, with a myriad of narrow streets all leading down towards the pier. Tricky to drive through now, it must be a horror when the island is busy. Towards the Na Baan pier you will find a choice of comfortable restaurants and some quirky cafés with excellent coffee. Full report to follow later! Taking the road south out of Na Baan you will pass a number of small resorts and some larger bars as you head out into the lush countryside.
The road south to Nual Beach is well worth the time, it is a lovely ride through unspoilt countryside with some selfie opportunities for the Instagram brigade. Nual Beach was my favourite for this trip as it is the furthest from the arrival points and somehow has maintained its character as a tropical beach. Fine white sand, clear waters and few people. Plenty of sun beds and umbrellas at THB.100 and a lovely beach for swimming. I believe that there are monkeys at the end of the beach if you insist on meeting these miscreants!
I chose to stay at the Blue Sky Resort. I had liked the look of the place from Booking.com and mainly as it was located within a short walking distance of the Klom Klom Bar where I intended to spend my evening! It consists of just four comfortable and well-equipped rooms. The location is quiet and as I live on the beach in Jomtien, I did not need to stay close to the beach on this trip. They have a charming café serving some of the tastiest cheesecakes that I have had the pleasure to enjoy. The costs for 1 night was THB.900 for one of their good sized and bright rooms.
Finding breakfast the next morning was a slight challenge as it appears that a majority of the cafés and restaurants open at 10:00. There are however plenty of alternatives if you like street food. I chose to return via the Na Baan ferry thus completing a round trip. It is a very simple procedure to return the motorbike and with my document returned I made my way to the awaiting ferry, paid my THB.30 fare and took my seat.
24 Hours on Koh Larn
I thoroughly enjoyed my mini-vacation on Koh Larn. I loved the island atmosphere and, believe it or not, the general lack of commercialism. The beaches have massive capacity and as most visitors to the island are day trippers many never make it further than the beach! The centre of Na Baan is charming but limited. There are some very creative resorts built out over the sea offering ocean rooms which I would imagine are quite an experience for city dwellers. My personal choice, the Blue Sky was quiet and a lot cheaper! Staying over night does give one the opportunity to explore most of the island, enjoy a relaxed lunch and some beach time. The island is not famed for its' nightlife and once the day visitors leave, I guess that it must be very quiet.
Later research indicates that I missed two beaches, namely Tonglang and Ta-Yai beach. There are also a number of interesting coffee shops that need visiting, so I will be back shortly!
Sitting on the ferry and looking towards the sky-scrapers of Pattaya and Jomtien, I do hope that the authorities will look at limiting the number of visitors to Koh Larn in the future as this daily onslaught had left its mark on the environment. However we will see as the greed for numbers often outweighs environmental issues. Maybe with the 'New Normal' there may be a way to address this in the future. In the meantime, if you can, visit Koh Larn and enjoy your 24 hours as much as I did!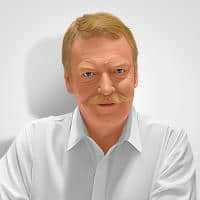 Kim Waddoup
Founder
Kim Waddoup enjoyed a lifetime in the tourism business and is an active 'Silver-Ager" living in Thailand. He writes for his age group with high varied articles covering subjects relevant to retirees living in, or visiting Thailand. Any questions or comments on this post? Please do feel free to contact me through our 'Contact Form' or directly [email protected]