A gastronomic feast at Crush Wine Bar, Pattaya. Superb food, excellent wines and great company!
The Pattaya region is fortunate to be able to enjoy a vibrant gastronomic scene with a plethora of choice from simple food to haute cuisine and it is therefore a great honour to be able to report on a new arrival on the scene.
Crush is the new Wine Bar on Soi Khao Talo and joins the stable of Pepper & Salt and Le Bakery. The combination of culinary specialities, carefully selected wines and fresh bakery products crates a winning formula.
Their first Wine and Dine event was sell out and held in combination with Penfolds wines it proved to be a gastronomic feast with Executive Chef Albert Casulocan preparing innovative culinary treats to be paired with the selected Penfolds wines.
The eager diners assembled promptly and when seated were presented with a delicious, if not rather sweet premium sparkling wine Bellini that was accompanied by a range of beautifully prepared and flavourful canapés.
The first course was a Carpaccio Tuna and Salmon with Pistachio Nuts with a Lettuce, Asparagus, Basil and Balsamic bouquet. Beautifully presented the wafer-thin slices of carpaccio were perfectly complemented by the balsamic and pistachio and adorned with the intricate salad bouquet. The carpaccio melted on the palate and was paired with Penfolds Max's Chardonnay, an intricate wine of 100% Chardonnay without the sweetness from most wines of this sort. Medium bodied, excellent nose with a citrusy edge it was a superb pairing.
Just one of the many highlights of the evening was having Kuhn Suda, the Penfolds Brand Ambassador for Thailand, present each of the wines. Her descriptions were detailed, succinct and interesting, well preparing us for the intricate pleasures of each wine.
For the second course we were served Risotto with Braised Veal Cheek, Porcini Mushrooms and Goose Liver Cubes. Superbly presented the aroma from the Porcini Mushrooms preceded this dish to the table. Perfectly prepared and full of flavour the Risotto was the centre of the creation whilst the braised Veal Cheeks were tender and full of their delicate flavour. Complemented with cubes of Goose Liver the components of this innovative dish melted in the mouth. Paired with a superb Penfolds Bin 8 Shiraz Cabernet the dark cherry flavour produced appetising acidity with almost textbook cabernet tannins supporting the very opulent shiraz. A superb wine and perfect pairing.
To cleanse the palate and prepare for future dishes, a delicate Lemon Sorbet proved to be a delicate diversion.
The main course was Australian Lamb Rack & slow cooked Beef Brisket, with Truffle Mash, Broccoli, Baby Carrots and Shallots. Again beautifully presented, the lamb was sweet and tender and was complemented with the deeper flavour of the brisket. The mash was perfection with a strong truffle aroma. The shallots were again an interesting accompaniment but added yet more flavour. This dish was paired with a Penfolds Bin 138 Shiraz, Grenache and Mataro. This medium bodied wine had a great deal of texture and hidden flavours with just a small oak influence. It caused discussion on our table as it was perfectly paired for the brisket and mash, but the sweetness of the lamb changed the acidity.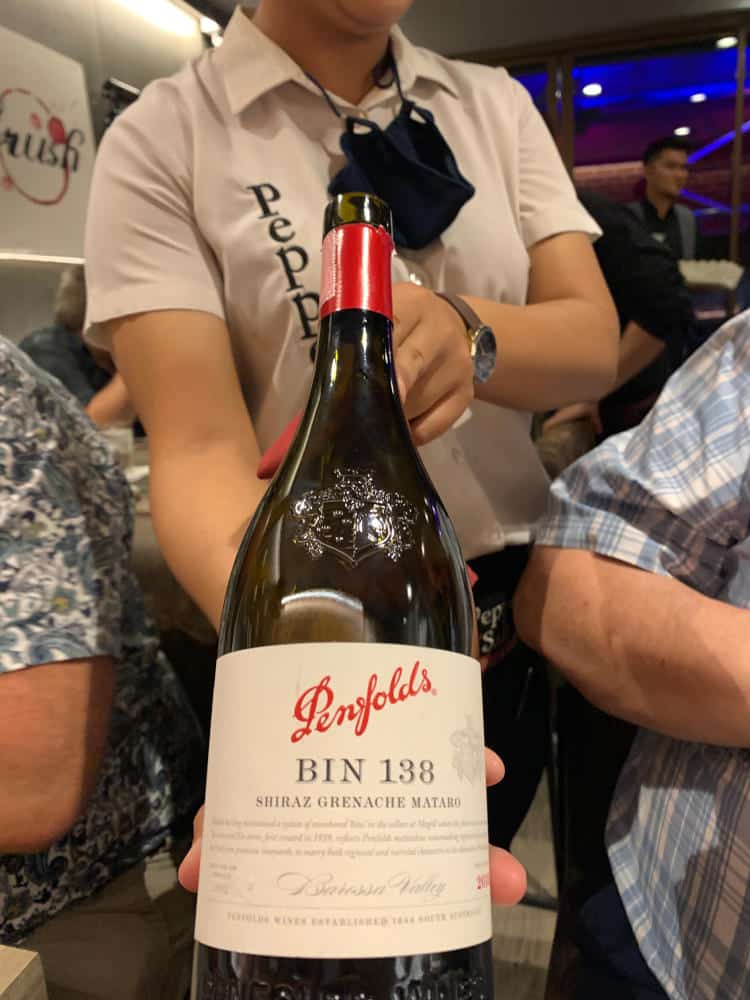 Fine dining in Thailand is quite a challenge with differing temperatures mostly due to the level of air conditioning. This dish was served on hot plates enabling the complex flavours of the meat and truffle to be appreciated before the a/c cooled the creation. A small point, but full marks to Crush for appreciating this.
An International Cheese Selection with Mango Chutney and Figs followed. Once again beautifully presented the cheeses represented many countries with a tangy mango chutney. Maybe the most controversial decision of the evening was to pair this cheese plate with a Penfolds Bin 51 Riesling. This was quite an unusual Riesling, no 'petrol' on the nose rather floral with a hint of lime. It was a light bodied and enjoyable wine that paired surprisingly well with the softer, higher fat content cheeses. It did not however, suit the bold flavour of the Parmesan but an interesting pairing and grounds for discussion.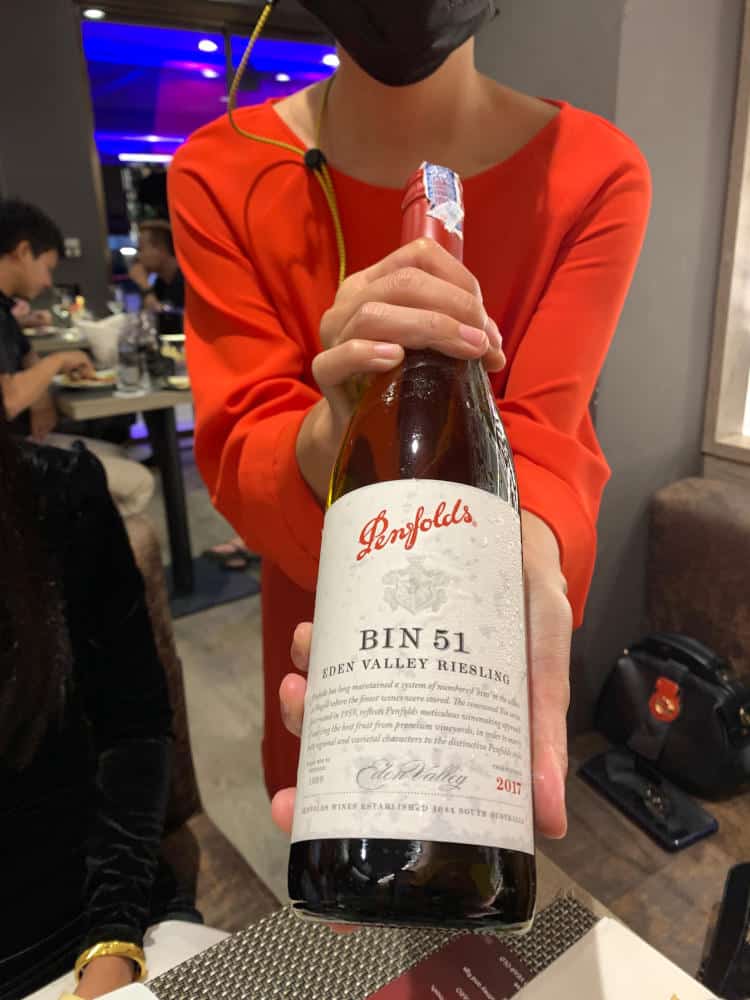 Possibly the star of the evening was the sensational dessert. Their in-house bakery, Le Bakery, had prepared a dazzling end to the evening. Labelled as a Chocolate and Strawberry Mousse this was a dessert creation par excellence! The scoops of mousse were arranged with strawberries, blueberries, raspberries, small cubes of brownie, a confectionery flower and a twist of dark chocolate. A veritable feast for the eyes and extremely tasty as well. Paired with a Penfolds Father 10 year old Tawny Port, this wood aged, medium bodied Grenache, Shiraz, Mataro and Cabernet blend was a most appropriate end to a splendid meal.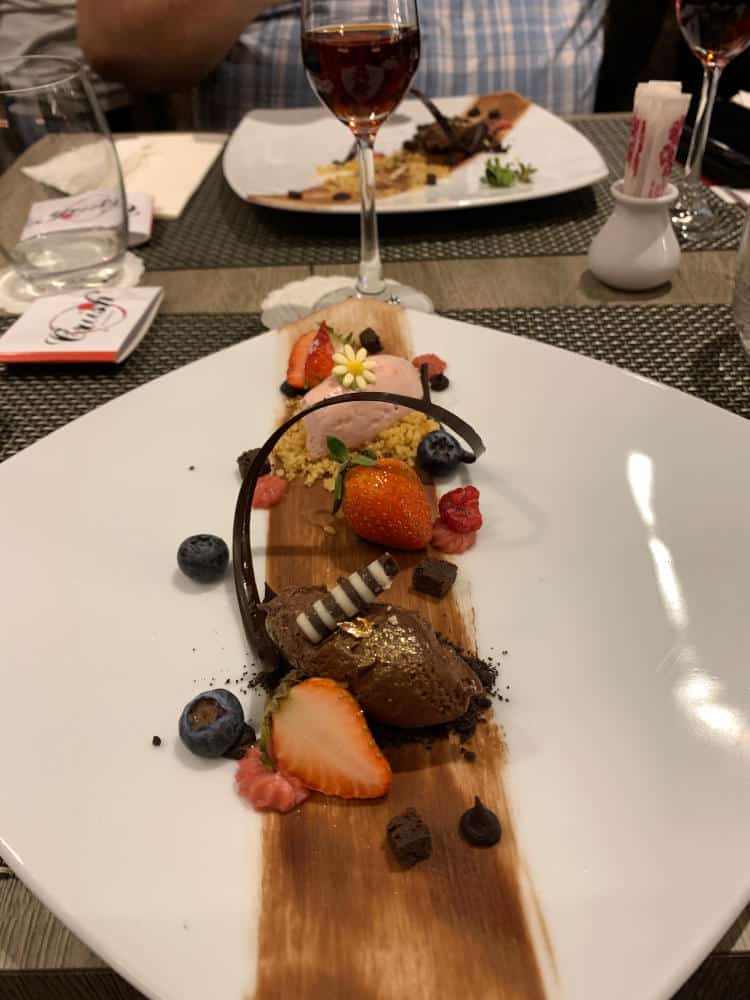 Service throughout the meal was impeccable with the varying characters of the Crush/Pepper & Salt team working flawlessly together to serve professionally with their individual style. Not an easy task and for such an auspicious occasion and carried out to perfection.
Executive Chef Albert Casulocan and his kitchen team created a gastronomic masterpiece with flair and innovation that will firmly continue to establish Crush (and Pepper & Salt) at the higher end of the Pattaya culinary scene.
The attendance of a team from Penfolds was also commendable. Kuhn Suda, the Penfolds Brand Ambassador was able to explain each wine and answer questions on the complexities of each wine paired.
Towards the conclusion of the evening a raffle was held for a very special bottle of Penfolds Grange valued at THB.32,000. Experts believe that this can be stored for up to 50 years! Each participant had been asked to provide his/her telephone number and the anticipation in the Wine Bar was rippling as all waited to their phone to ring. The very lucky winner was ecstatic with his wonderful prize.
Congratulations to all at Crush Wine Bar, you have my vote as one of the best in Pattaya!
Crush Wine Bar, Khao Talo, Darkside, Pattaya