Looking for a comfortable restaurant in Pattaya with a relaxed atmosphere with high standards? Try Playa Bistro and Lounge, you will enjoy the experience!
Having heard many positive comments about the recently opened Playa Bistro and Lounge and, as a fan of Executive Chef, Kenneth Goessens' culinary skills, a visit to Pattaya Beach Road, was long overdue.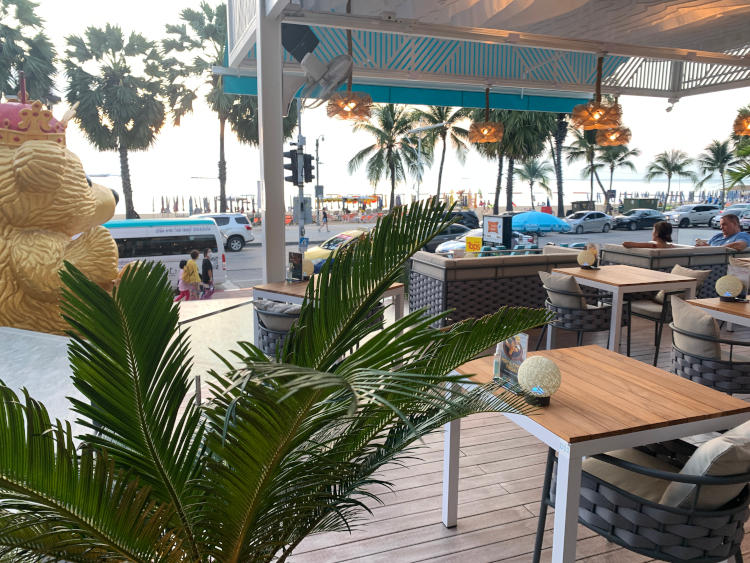 Playa Bistro and Lounge is located in the northern(smarter) end of Pattaya Beach and enjoys a wonderful, slightly elevated view over the beach. With a modern, clean-cut, chic style; Playa Bistro has a welcoming outside seating area in addition to a very comfortable airconditioned lounge style interior. It also features a fully equipped bar with a long, doubled sided counter for relaxed, informal meetings, dining and drinking.
At the front of the terrace are two comfortable sofas looking out to Pattaya Bay, and as we had arrived quite early we were able to take one of these for our relaxed and most enjoyable evening at Playa Bistro.
The bar offers a choice of bottled and 4 draught beers with a definite Belgian emphasis. We started with one of my favourites, a Duvel at THB.220. Chilled but not too cold, this tasty Belgian beer was served in the correct Duval balloon glass indicating the attention to detail that one finds everywhere in this establishment. There is also an extensive range of classic cocktails available, reasonably priced at THB.290.
The menu is large, both in size and in the variety of cuisine offered, with a range that includes Tapas, Soups, Salads, Paninis & Wraps, Pasta, Burgers, Steaks and many Thai Dishes. The dessert menu is comprehensive featuring many variations of freshly prepared waffles.
It was a warm evening, the sun was setting and the beer at perfect temperature, to choose from the menu was a challenge so we decided to start with the Tapas and therefore avoid the mental challenge of having to make a choice! We went for the Playa Tapas Plate at THB.780
Beware! The Playa Tapas Plate is enormous! Served on a massive tablet of polished wood this is a meal on its own, including 4 slices of Garlic Bread, 2 Italian Bruschetta, 2 Mozzarella and Parma Ham Bruschetta, 2 Playa Bruschetta, Fried Calamari and Tartare Sauce, Cheese Bowl, Marinated Olives, Playa KFC(!), mini-Cheese Croquettes and cubed Salami. A veritable feast for the eyes.
Thailand poses many challenges for international food with warm outdoor and cooler indoor dining. So often the bread on which a bruschetta is served is either rock hard or as limp as soggy lettuce. Playa uses Crostini rather than Bruschetta with the result that this 'baguette' style bread retains a crisp crust on the outside and a pliable interior.
The variety amongst the Bruschetta was superb. The 'Italian' consisted of well ripened tomato, a gentle sprinkling of garlic topped with Italian basil. The pesto sauce was the dominant flavour with soft mozzarella and a generous slice of perfectly cured Parma ham on the second. My special award goes to the Playa Bruschetta where the guacamole and smoked salmon combination was terrific. Maybe add just a little drop of Tabasco?
There were two outstanding stars. Firstly, the Fried Calamari which were succulent inside and crispy on the outside, the lemon enhanced their flavour and the Tartare Sauce complemented the dish. Then there was the Playa KFC. Despite the name, these were succulent boneless chicken wings marinated with a rich and spicy Korean sauce, superb!
The addition of sun-dried tomatoes in the olives were an interesting and welcome touch and the cheese bowl comprised of cubes of Gouda cheese with mustard, pickle and gherkins.
The only slight disappointment was the Mini Cheese Croquettes which could have been browned a little more to ensure that the crusts were crispy. We could not taste the three different cheeses, but maybe we were unlucky with the selection!
A Tapas selection is to be savoured slowly enjoying the setting sun and good conversation and once the massive board was cleared, we were sated and to order any additional dishes.
To complement the amazing Playa Tapas board, we imbibed in nice cold glasses of Hoegaarden draught at THB.190 per glass.
The décor and design of Playa Bistro and Lounge oozes quality and chic design without being over the top. Seating is comfortable and the ambience/lighting classically comfortable coupled with cool vibes from the background music. The staff are immaculate in their very becoming uniforms. They are exceedingly well informed, efficient and wonderfully friendly. I love to be able to discuss my choice with the Chef and Kenneth is readily available and amenable to personal preferences.
We thoroughly enjoy our visit and will most certainly return soon!
Playa Bistro & Lounge, Beach Road, Pattaya, Thailand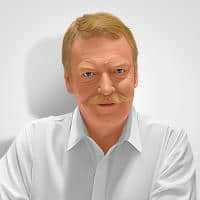 Kim Waddoup
Founder
Kim Waddoup enjoyed a lifetime in the tourism business and is an active 'Silver-Ager" living in Thailand. He writes for his age group with high varied articles covering subjects relevant to retirees living in, or visiting Thailand. Any questions or comments on this post? Please do feel free to contact me through our 'Contact Form' or directly [email protected]