Riverside living in Bangkok
Bangkok used to be one of the most visited Cities in the world which resulted in over-crowding in most of the tourism spots around the city. With the Grand Palace, Wat Pho and Wat Arun high on most bucket lists the areas around these attractions were amongst the most crowded , especially during the day. As a result of the pandemic, Bangkok remains virtually devoid of tourists presenting wonderful opportunities to enjoy and experience specific areas, as they really are!
The Chao Phraya river dissects modern Bangkok and had become more known for its vast selection of tourist boats and night cruises. With most of these still not operating the river has resumed to its more traditional character with ferries skittling across at so many places and various forms of public boats plying up and down the river.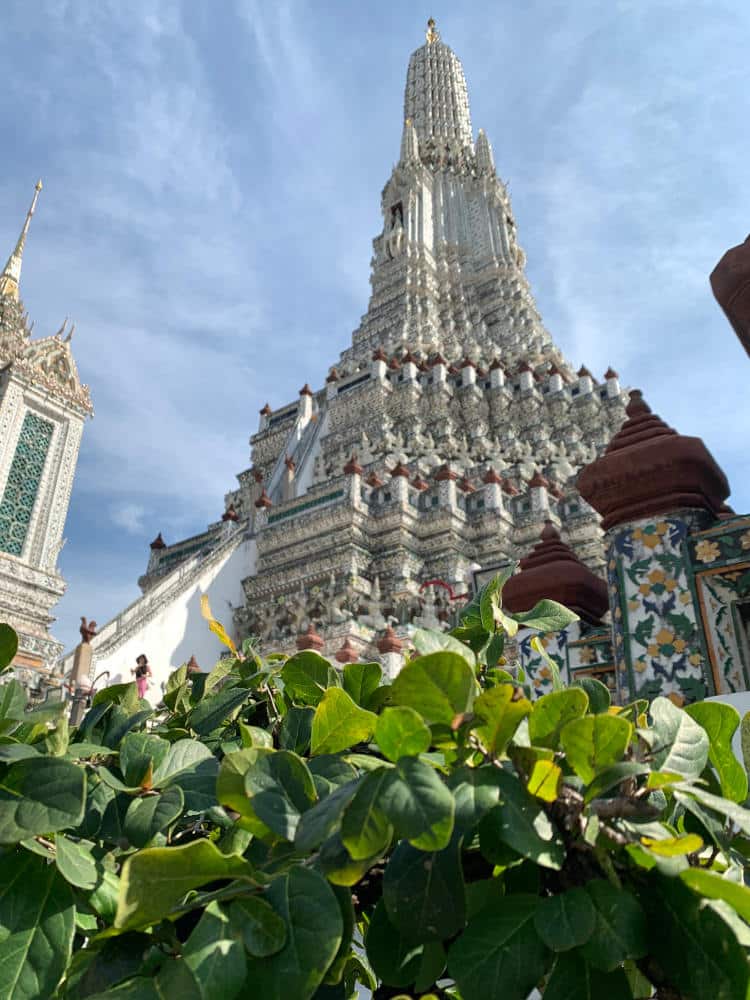 On a previous visit we had explored the deserted temples of Wat Pho and Wat Arun and were intrigued by the 'real' life of this area, without tourists and deliberately located ourselves on Maha Rat Road, between the Grand Palace/Wat Pho and the river. The road is a traditional commercial road with time-honoured businesses unchanged for many years. Scattered between however are a growing number of trendy cafés and places to stay.
Look on Booking.com or Agoda and you will find several small fashionable hotels located directly on the river including the Arun Residence Group. These look smart, friendly and comfortable, however, you will pay for the river view. Alternatively, there are some local accommodations that offer incredible value for money, comfort and almost a 'locals' experience. We chose to stay at the Chaiwat Guesthouse which offers simple but fully equipped and clean rooms on a side Soi for just THB.650/Euro.18 (at the time of stay). The service is extremely friendly from the owners, the room is small but excellent and quiet at night.
Staying at the Chaiwat Guesthouse provided us with an excellent base in exactly the location that we required with the river less that 100 meters away and the Grand Palace and Wat Pho as neighbours. There is an excellent choice of street food all around and many cafés including the charming Vivi Café directly on the riverbank.
Our aim during this stay was to utilise river transportation as much as possible and Bangkok offers a variety. The small, local ferries are extremely cheap. Our nearest, the Tha Tien crosses to Wat Arun for just THB.4 and a little bit further the Tha Chang ferry for THB.3.5. This takes you across to the Trok Wat Rakhang street market and further riverside cafés.
The Chao Phraya River Express Boats offer incredible value for money on their long, fast 'traditional' style boats that crisscross the river in both directions. For just THB.15 we travelled from Wat Arun to Pak Kred (Nonthaburi) and back! The journey is fascinating seeing the various styles of river architecture from stilt houses, ornate Temples to massive Government offices. The end stop at Nonthaburi is worth a short wander as it used to be a separate town, now encompassed into urban Bangkok.
The larger catamarans of the Blue Line Hop On Hop Off boats are more comfortable to ride and you are still in the open air gaining the full experience of the River. Our trip from Asiatique to Wat Arun was THB.35 and we were the only people on board. There are also the Riva Express and the MINE Smart Ferries both of which are airconditioned and the latter is electric powered.
The choice of ferries can be a little confusing however the staff at each of the piers that we visited were helpful and able to get us onto the right boats.
Using the ferries provides a very different perspective of Bangkok and each of the piers is a hub of thriving activity. Being a hot day and after 17:00 we noticed a pub on the river at Phra Athit and considered imbibing in some refreshment. However, this rather elegant pub, only served craft beers and despite being 50% of the clientele at the time, ignored us sufficiently to encourage us to take our custom elsewhere! I quick look at the map indicated that the infamous Khaosan Road was not so far away.
The walk is pleasant through some interesting communities with many colourful bars and eateries. Our current challenge is to find only draught beer and not bottled. Even in the late afternoon you can hear Khaosan as you get close to it and on arrival the atmosphere changes quite dramatically. Khaosan is now side-by-side bars, each pounding out different, unrecognisable electronic music.
Hustlers are in front of most establishments, enticing you to enter and every second person seems to be selling you roasted scorpions! Eventually we did find a bar with draught Chang, it was poured without enthusiasm into a warm mug and eventually brought to our table. The music was pounding and the beer soon warm, not our type of place. Why do places like this feel that they can charge such a premium? THB.220 for a very mediocre pint.
We found refuge in a large Irish pub and tried their Guinness at THB.301. The beer was good and cold, additionally it was a pleasant spot to watch the antics of one of Bangkok's tourist attractions! However hustlers everywhere, scorpions being offered every two minutes and the caecotrophy of multiple music sources did not improve our discomfort level. Leaving as soon as possible it was a relief to escape the asinine atmosphere of our unpleasant and expensive experience of Khaosan Road.
Enjoying a pleasant walk home though many of the Government buildings we were able to leave our vexation from commercial Bangkok and return to our special corner of Bangkok. Back on the river, we climbed then climbed the stairs to the Eagle Nest rooftop bar of the Sala Arun to enjoy very reasonably prices cocktails with the amazing view of Wat Arun directly opposite.
After a good night's rest in the Chaiwat Guesthouse, breakfast was very local street food followed by an excellent coffee at Kin & Koff with a view directly to the Grand Place. A short walk brought us to Tha Chang to visit the much publicised and recently opened Maha Rat Tunnel. This has been created to help the hordes of tourists cross this slightly busy intersection. No expense spared here with chilly air conditioning and even hi-tech public toilets.
Unable to locate the bus that we required we relented and asked a Tuk-Tuk for his price to Wat Saket, his amazing answer; "up to you"! Normally THB.300 upwards the now affable driver agreed on THB.100 and we were off in, for us, a very rare trip in a Tuk Tuk! Yes they are fun, yes they are a necessary Bangkok experience but, in the past, mostly outrageously expensive.
Wat Saket or The Temple of the Golden Mount is a most interesting place to visit as it is located on the only hill in otherwise flat Bangkok. Built under the reign of King Rama V is 77 meters tall at the top. The grounds are beautiful with a serenade of thousands of bells tingling in the wind. It is about 300 steps to the top and with a reasonable entrance fee of THB.50 for foreigners it is worth visiting. The views over Bangkok are very different, there is always a wonderful breeze and the sound of the multitude of small bells is very special. Please bear in mind that Wat Saket is a fully operating Temple and many devout Buddhists come here to pray. Tourists are accepted but please remain respectful.
Amazingly another Tuk Tuk driver outside Wat Saket agreed on THB.100 to the Tah Maharaj pier to cross the river to catch the Hop On Hop Off ferry for the journey south to the last stop at Asiatique. The voyage is now mostly modern Bangkok with towering condominium buildings, luxury hotels and an even more luxurious Mall, Icon Siam. Asiatique is very sad at the moment and it will take a long time before a semblance of life will return here. We did not linger as our aim remained Old Bangkok so we jumped onto the same ferry back north stopping at Rajinee Pier.
Our next destination was the Pak Khlong Flower Market. The market is vast and is primarily a wholesale market with flowers on a scale that is hard to comprehend. Tourists are accepted but again when there are too many, they just crowd the busy aisles. Visiting now is an incredible experience as they are happy to see a few foreigners to alleviate the monotony of their days even when surrounded by such natural beauty.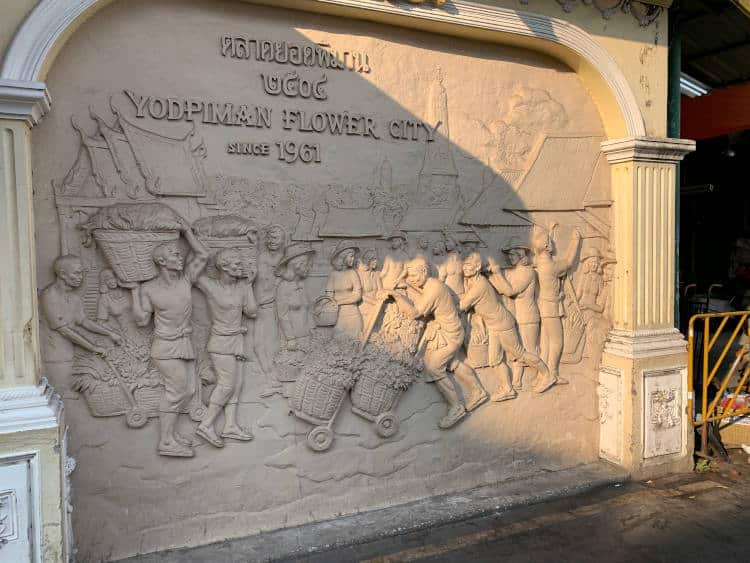 From the ferry we had seen the Yodpiman complex. Formally full of bars and restaurants this amazing terrace currently has just one survivor and surprise, surprise they could serve a superb cold, draught Heineken for THB.160. Sometimes I don't understand Thailand, here we are in a comfortable air-conditioned restaurant with an amazing terrace overlooking the river with an ice-cold beer for THB.160 whilst the squalor of Khaosan charged 37% more for a far inferior product!
To cut a long story short we spent a lovely evening alone on their vast terrace watching the last ferries of the day and enjoying the sunset over Wat Arun, followed be a short stroll back to our temporary home.
Another great night's sleep and up early to soak up the traditional early morning atmosphere of the nearby fish market by the Tha Tien pier. This is as authentic Bangkok as it can possibly be. Little alleys with people going about their normal daily business and quite unaware of the other life just across the street in the Grand Place. A great Phad Khrapao in a small street shop followed by a superb espresso in the recently opened Blue Whale Café further enhanced my full expectations in this delightful area of Bangkok.
We had specific parameters for this trip. We wanted to explore an old part of Bangkok and use river transportation. We met some wonderful, friendly and genuine people. We could enjoy excellent coffee in the uncrowded cafés, savour great food and experience this very specific area of Bangkok.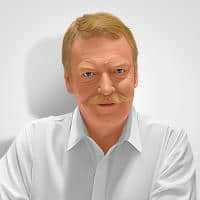 Kim Waddoup
Founder
Kim Waddoup enjoyed a lifetime in the tourism business and is an active 'Silver-Ager" living in Thailand. He writes for his age group with high varied articles covering subjects relevant to retirees living in, or visiting Thailand. Any questions or comments on this post? Please do feel free to contact me through our 'Contact Form' or directly [email protected]