A Special Wine Haute Cuisine Dinner Night at Patrick's Steakhouse in Pattaya, Thailand
The choice of food in Pattaya is vast, from simple street carts to Haute Cuisine and everything in between. It is a challenge to work out which restaurant to go to, so I try to attend special wine dinners where the Chef prepares a special menu with wine pairings for each course.
My latest foodie night was in the company of a distinguished group of food lovers at Patrick's Steakhouse in Central Pattaya. As I am no longer much of a steak eater, I would probably not have considered this venue without attending this event. However I am really glad that I had the opportunity to sample the food here.
It was a very pleasant surprise and a restaurant that I will certainly frequent in the future. Patrick's is located in the heart of Pattaya just off 2nd Road. Whilst under Belgian ownership the restaurant offers an eclectic mix of European and Mediterranean Cuisine along with several special menus and dining events.
Our Soiree Francaise French Wine & Dine Night commenced with Trio Huîtres Francaises. An oyster trio of a Normandy No.2, La Spéciale (GEAY) No.2, and an Irish No 3. Three beautiful plump, fresh oysters bursting with flavours with a mignonette and a hot sauce. Paired with a lively and flavourful Champagne Charles De Cazanove this was an excellent start to what was to prove to be an excellent dining experience.
This was followed by Crotin Chavignol. Goat Cheese, Rocket Salad, Pancetta, Acacia Honey and Caramelised Apple. This dish had been superbly prepared with care and attention to present a classic dish that was bursting with combined flavours. The caramelised apple was an interesting touch that added extra sweetness to the tart goat cheese. Paired with a Chablis AOP Louis Moreau this dish and wine complemented each other perfectly. The Chablis had a typical golden colour and notes of white fruits, so typical of Chablis terroir. Chalky hints and a perfect balance in the mouth.
Next would come the highlight of the dinner. Mousseline de Homard with Grilled Green Asparagus and Mixed Sprouts. Top marks for creative presentation, the lobster mousseline was succulent and erupting with subtle flavour. The lobster claws prepared to perfection and the colourful 'droplets' of sprouts providing additional contracts. Paired with a Chateau La Tour L'Eveque Pétale de Rosé, this was a pairing made in heaven with the delicate nose offering ripe strawberry and nectarine aromas. The palate was dry and mellow with a satin like texture so typical from the hilly area of the Maurettes area of Provence.
To cleanse the palate for the change from seafood to meat, a Granité of Yuzu & Honey was served. Excellent, light, flavourful and cleansing.
Since moving to Thailand I have rarely eatien steak so it was with some trepidation that I viewed the 200g Wagyu Striploin with Beurre Café de Paris and Homemade Fries. Superbly presented the Striploin was perfectly prepared, it was succulent, and the Beurre Café de Paris added an extra dimension of excellence. The steak was paired with a Loius Max Bourgogne Beaucharme Pinot Noir which was the only disappointment of the evening. The wine lacked any strength or flavour which is quite surprising from a 100% Pinot Noir. Whilst smooth tannins, there was minimal flavour to compliment the excellent Striploin.
To end this feast, we were presented with a magnificent French Cheese Plate comprising of Comté Extra Prestige, Saint Maure, Roblochon, Tomette au Piment D'Espelette and Fourme d'Ambert. A veritable journey through French cheese all at perfect ripeness. The reputation of the wine supplier was more than saved with the excellent pairing of a Chateau Le Rey Argileuses Castillion Cotes de Bordeaux. This is a bold wine with strong tannins, dry on the palate and slight acidic finish, perfect for the strength of the French cheese.
The meal was excellent and the service was friendly, professional and attentive. Sincere congratulations to Chef Aurelien for an exceptional meal prepared to perfection.
Partick's Steakhouse should be added to your list of restaurants to frequent in Pattaya. It you are not a steak eater, don't be put off by the 'Steakhouse', this restaurant serves a wide variety of other delicious foods to suit every palate. Naturally if you are a steak lover, then you will be more than satisfied here.
Congratulations to Patrick and all of his team for a great meal!
Link to Patrick's Steakhouse Pattaya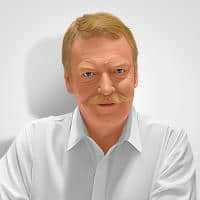 Kim Waddoup
Founder
Kim Waddoup enjoyed a lifetime in the tourism business and is an active 'Silver-Ager" living in Thailand. He writes for his age group with high varied articles covering subjects relevant to retirees living in, or visiting Thailand. Any questions or comments on this post? Please do feel free to contact me through our 'Contact Form' or directly [email protected]