Looking for a Memorable Villa for Rent on Koh Samui?
As a writer one sometimes needs to get away from everything to be able to concentrate and write! Feeling the need to 'get away from it all', I chose to go somewhere that I have never visited before but also somewhere that had been on my bucket list for some time. Hence my recent visit to Koh Samui.
Transportation was relatively simple as Bangkok Airways now offer 3 daily flights to Ko Samui from U-Tapao airport close to Pattaya. So just a short drive to a smaller airport on this end and I wanted to stay close to the airport in Samui. I did not want the commercialism and 'organised relaxation' of the resorts, despite their wonderful websites. I wanted total peace and quiet yet with plenty of room to move around. My extensive research for a Villa for Rent on Koh Samui, brought me to Montalay Villa a private villa home now being offered for rent. It was a bit self-indulgent to rent a 3-bedroom villa just for myself but it appeared to tick all my boxes, so I contacted the owner and confirmed my reservation. Whilst relatively expensive for one person, the promotional rate of THB2,765 per day plus electricity on AirB&B means it is exceptional value for money if shared by a family or 3 couples.
On arrival at Koh Samui's quaint airport I was met by my host and we were at the villa within 15 minutes. I travel extensively and when looking for specific accommodation I do make detailed research as often the descriptions create perceived expectations that are much higher than the reality. As Montalay Villa is relatively new to the market there are no reviews but I had a feeling that this was exactly what I was looking for. And it was! It was 100% what I was expecting, no hidden surprises, in fact much more than I was expecting. My lovely host Song explained that the villa had been built and used as a family home, but as her children grew the family had moved to Northern Thailand. The property had been used as a family vacation home but now was accepting rentals.
Montalay Villa is located in a slightly elevated location at the end of a small lane and offered the peace and quiet that I really needed. The only exceptions are the aircraft that fly by to the nearby airport but these are somehow part of the scenery and were rather exciting and certainly not disturbing (no flights at night). The Villa has private access and as I exited Song's impressive Pajero Sport I was immediately enveloped by the charm and atmosphere of Montalay Villa with wonderfully tended gardens and the sound of cascading water from the pool. The entrance is up 14 steps with the sun deck on your left and the imaginative pool on the right. Immediately the villa oozes quality, space and a feeling of being home.
There is a covered entrance area that opens to the vast living room and continues to the dining area and kitchens (yes there are 2!) There are 3 good sized bed-rooms leading from the living room. The master bedroom is larger with an impressive ensuite bathroom leading to a dressing room. The double doors open to the tasteful sun deck with direct access to the pool. The second bedroom is also large, again with attached bathroom, the feature of this room is that the doors open directly to the pool. The third bedroom is smaller but again ensuite. The living room is large with a vaulted ceiling, a big sofa facing the massive flat screen tv. Continuing through you will find the comfortable dining area and fully equipped kitchen. Outside you will find the second kitchen as Thais prefer to cook their fiery dishes in the open air. Follow the stairs up and you will discover the Sunset Room, an inspiring space for early mornings or to enjoy sundowners while relaxing with the impressive sunsets.
The pool is a lovely design and whilst it is a good size, it is more of a plunge pool for cooling down and family fun, not for laps! The pool also has a small kiddies pool for younger members.
What is unique about the villa? Firstly, I loved the location, no street noise yet just 400 meters from the coast road. The villa is solidly built and comfortably decorated. One can feel that was a family home and that great care has been taken to maintain the quality. I loved the space and freedom of a villa, I don't cook but I do need hot water for my tea and a refrigerator for my beer. I had so many places to work with my laptop, up on the roof, down by the pool and my 'Command Post' on the dining room table. The garden areas are full of mature trees and bushes that are tended with love encouraging birds to sing throughout the day. Everything is of a high standard, the cotton sheets are high quality, all towels are thick and soft, crockery and kitchen utensils are of superior standards. In fact, I could not fault any part of the villa or it's facilities. A highlight, to me at least, were the ingenious mosquito nets on all outside doors and windows. Rather than the typical ungainly sliding door, these are exceedingly clever rollers located within the door/window frames. You are able to enjoy a constant flow of fresh air without the discomfort of any bugs. I could sleep in the Master bedroom with the doors and windows wide open enjoying the sea breezes, which is what I needed. All rooms are air conditioned but with the large fans, high ceilings and fly screens I never felt the need to use A/C.
I was extremely fortunate in that my host was current living in the property. (She lives in the maids room on the ground floor and does not interfere or enter the house when guests are there). Song is an amazing personable lady who was pleased to show me local cafes, bars and restaurants. She also took me on a tour of the island, showing me the major sights and her insider knowledge means she can take you to places that normal tourists do not know about. Whilst I needed quiet to write the presence of this lovely lady working in her garden was no hindrance and it was extremely pleasant to share a beer together as the sun set.
To surmise. Montalay Villa is a beautiful home offering comfort and quiet (please note my comment on the aircraft) whist located close enough to cafés, restaurants and bars. With 3 ensuite bedrooms and large living areas the villa has so much space and very soon felt like home to me. It is ideal for families, 3 couple or even small retreats. A definite jewel amongst the villas on Koh Samui and very highly recommended
I booked this stay though AirB&B though Montalay Villa is also available on Booking.com and on TripAdvisor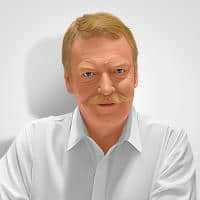 Kim Waddoup
Founder
Kim Waddoup enjoyed a lifetime in the tourism business and is an active 'Silver-Ager" living in Thailand. He writes for his age group with high varied articles covering subjects relevant to retirees living in, or visiting Thailand.

Any questions or comments on this post? Please do feel free to contact me through our 'Contact Form' or directly to kim@meanderingtales.com