Bangkok must be the massage capital of the world, with massage salons abounding on every street. There are the basic salons that offer a reasonable massage, there are the more 'audacious' that offer somewhat more than just a massage(!), an then there are the Spas. When looking for a simple Thai or Oil massage the normal salons are adequate, but if you are looking for a 'Traditional Spa Experience' whilst staying in Bangkok, one must consider one of the reputable and luxurious spas. Most hotel have their own spas, many are excellent but rather artificial. There are not so many top line Spas and my detailed research lead me to The Oasis Spa with their publicity material promising "Not Just a Spa Experience – but beyond". A short telephone call to a well-informed and articulate receptionist secured my appointment.
As a regular traveller to Bangkok, I use the BTS Sky Train whenever I can, and I was delighted that the Oasis Spa driver could meet me at Phrom Phong BTS station at 10:10. Sure enough, exactly at this time the car drove up! Soi 31 is a lovely street as it is a smaller side lane off Sukhumvit, that wends it's way around skyscrapers and then towards smaller sois with tantalising private houses behind tall walls.
The Oasis Spa occupies a beautiful Thai house centred around it's 'secret garden'. As you step out of the car it is like entering anther world. Staff in traditional dress, lined up to welcome me and I entered their beautiful reception area. Smiles and wais (the Thai way of saying hello) and lovely smiling faces, what a greeting!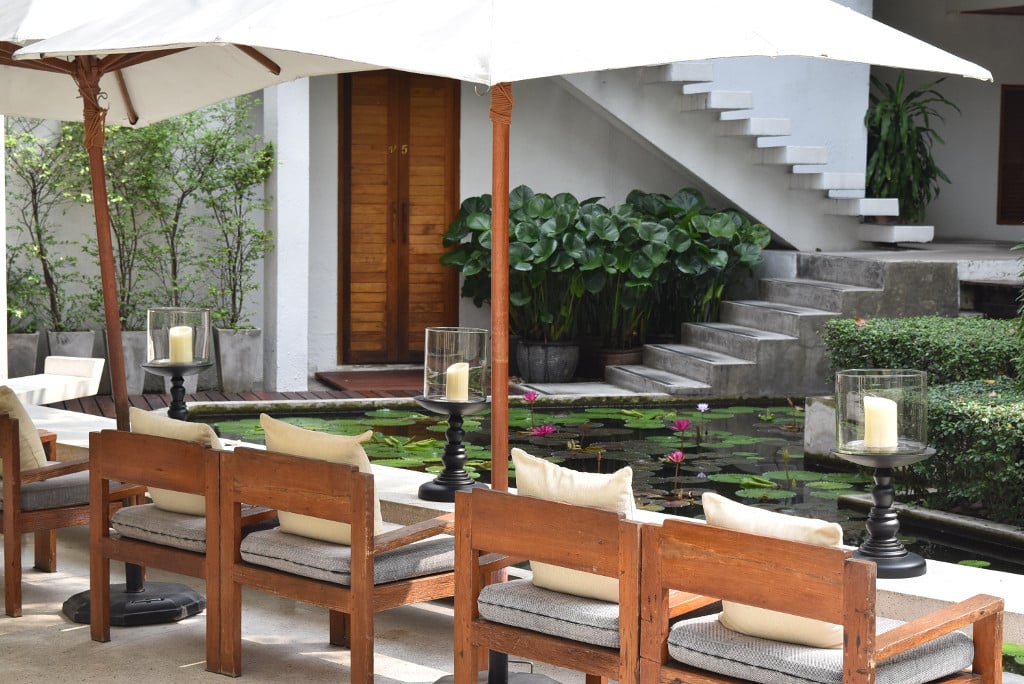 I was invited to sit and enjoy their signature ginger tea whilst my hostess ran through the procedures. The Oasis Spa is in fact a private house built specifically as a day spa with amazing gardens, ponds and the sound of waterfalls all around. There are 14 rooms located around the property. We left the reception area and I was escorted across the garden to my treatment room. I wish that I had brought my luggage as I would have happily stayed the rest of my time in Bangkok in this room. It is decorated in tradition Chiang Mai style with a lot of beautiful wood features and subtle style. It was cool and not super chilled as most spas unfortunately are. I had chosen an 'Oasis Four Hands' massage and was introduced to my masseuses Kuhn Cayla & Kuhn Da. I was also shown the room and its facilities. A sliding door let to the outside bathroom, complete with a special bathtub, double shower and other facilities. I personally love the feeling of bathing or showering under the open sky and here one could only hear the birdsong and none of the sounds of Bangkok.
Dutifully prepared I lay on the massage table and waited the ladies to return to start my sublime journey! I have experienced 4-hand massages before and as they start it is a challenge trying to work out which hands are from which of the ladies. These professionals have been fully trained in synchronisation and at no time during my treatment did that immaculate harmony fail! It was not a deep tissue massage rather a rhythmic therapy that induced complete and total relaxation. When the massage finished I was in a state of total tranquillity and harmony.
Often after an oil massage one can feel affinity to the sardines in a tin as you are left 'dripping' in oil. Nothing like this at the Oasis Spa. They use a specially blended Almond oil that is so subtly scented leaving the skin so smooth.
Having availed myself of the outdoor shower again it was time to return to my urban self and get clothed for my return. From the room, across the pond and back to the reception area for yet another tea and evaluation of my experience. I have heard that Oasis Spa maintain their records meticulously and if you only return many years later, they know which room you had and who your therapists were.
The Oasis Spa is truly an oasis in the heart of this great and crazy city. I highly recommend everyone to take at least half a day to enjoy the day spa facilities as part of your Bangkok experience. Your body and mind will thank you for it!
My final synopsis – it is not cheap but it is worth every cent! Their attention to detail and amazing service is a real tribute to the best that Bangkok has to offer. Every small, little detail has been looked at and thought through to provide a truly amazing customer experience. I loved it and will be back!