Special Wine & Dine Dinner at the Oasis Restaurant in the Thai Garden Resort, Pattaya
It was with great pleasure that I saw an advertisement for a special wine dinner in the Oasis Restaurant in the elegant and traditional Thai Garden Resort and a table was immediately booked for this sell-out event.
Our culinary journey commenced with a delightful trio of canapés. These included a flavourful Pork Pâté Mousse with Cognac, a succulent Breaded Shrimp with Spicy Mayonnaise and a Mini-Sandwich with Herb Cheese and Smoked Salmon. Accompanied with a lively Prosecco Corte Ciara Dry DOC which was fresh, fruity and lively with a smooth finish. An excellent start to what was to prove to be an most enjoyable Menu and wonderful evening.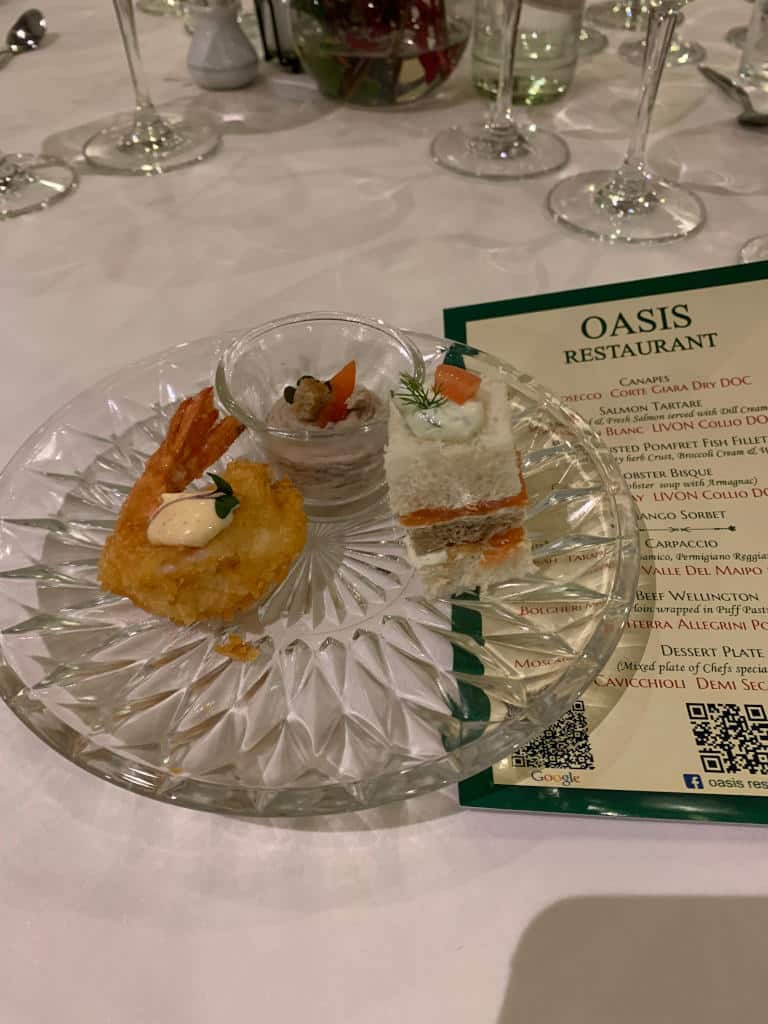 The next dish was a Salmon Tartare which was a beautifully presented dish of Tartare from Smoked and Fresh Salmon. The salmon was perfectly fresh and delicate and the dill cream very subtle. I personally would have liked a small hint of spice, but it was an excellent creation that was perfectly paired with a Sauvignon Blanc Livon Collio DOC. This was an excellent wine, straw yellow with golden and even greenish reflections. An intense but not over-powering bouquet and a wide range of aromas, dry on the palate with a good structure.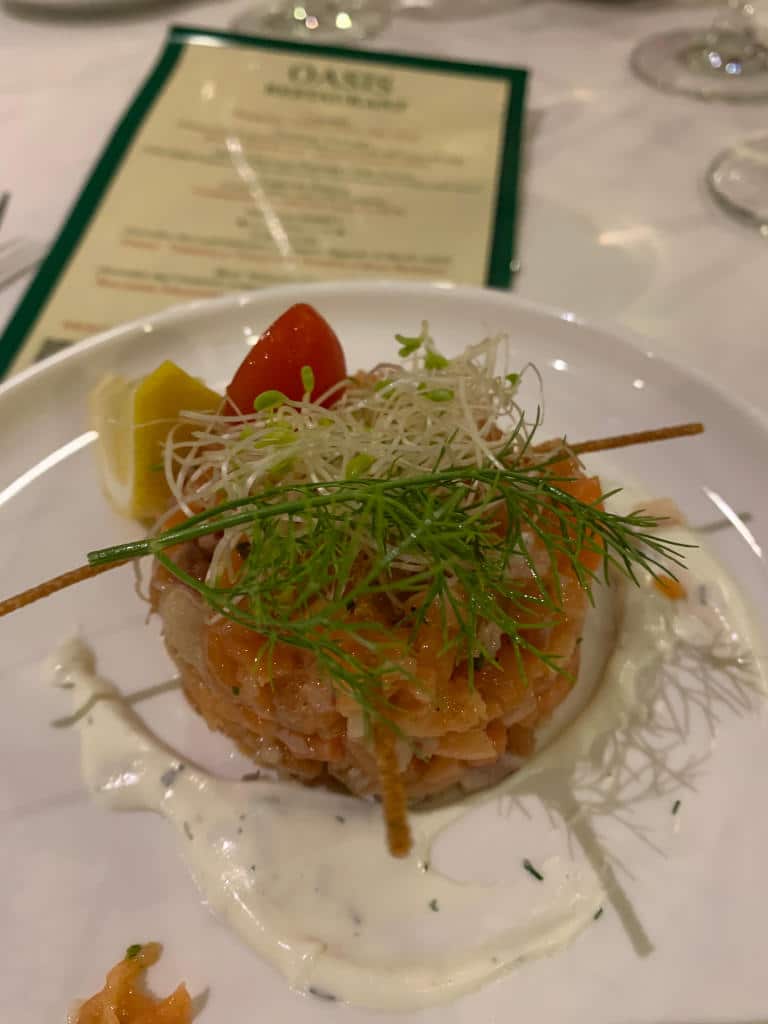 This was followed by Herb Crusted Pomfret Fish Fillet. Oven baked Pomfret with a nutty herb crust served with a broccoli cream and white wine sauce. For me this was the highlight of the evening, the pomfret was perfectly prepared, served warm, the fish meat was firm and the nutty herb crust perfectly complimenting the flavour of the fish. The broccoli cream and white wine sauce was delicate and perfect for the fish. Top marks for creativity, presentation and execution. Our glasses had been topped up with the Savignon Blanc Livin Collio which proved to be a also a superb pairing for this dish.
Our next delight was Lobster Bisque, a creamy lobster coup with Armagnac. The soup had been perfectly reduced to provide a robust soup with classic bisque flavouring and texture. Paired with a Chardonnay Livon Collio DOC, the wine was possibly too delicate for the strong flavour of the bisque. Notwithstanding, the Chardonnay enjoyed an elegant bouquet with graceful flavourings. Velvety on the palate it left the mouth clean and dry and perfectly prepared our taste buds for the tangy Mango Sorbet. More of an ice cream texture it might have been more suitable as a classic, zesty sorbet.
At this point we were left a few minutes to digest the first 5 courses and to socialise with some of the other assembled guests.
After this brief respite the Carpaccio was served. This consisted of Australian Beef with Balsamico, Parmigianino Reggiano and Rucola Salad. The beef was tender and wafer thin, the Balsamico pungent and the rucola fresh and crisp. Paired with a Syrah Tarpacá Valle Del Maipo Gran Reserva, a rich and bold wine from the main wine producing area of Chile. Deep ruby colour with hints of blackberry/cassis, chocolate and notes of dill, bay leaf and lavender, the Gran Reserva was balanced on the palate with smooth, ripe tannins and excellent persistence. Another perfect pairing that was much enjoyed.
Our final main course was Beef Wellington of Australian Beef wrapped in puff pastry served with mashed potato and garnished with baby carrots, tomatoes and water cress. The Beef Wellington was again perfectly prepared, the meat succulent and the pastry retained some crispness. The hints of nuts and herbs escaped providing yet another perfect dish. The Bolgheri Mediterra Allegrini Pogglio al Tesoro proved to be a perfect pairing with a perfect harmony between the freshness of the aromas with it's warm, powerful flavours so typical of Bolgheri. Ruby red, it was a fragrant and intensely fruity wine with spicy notes. It was fresh, intense and surprisingly persistent on the palate.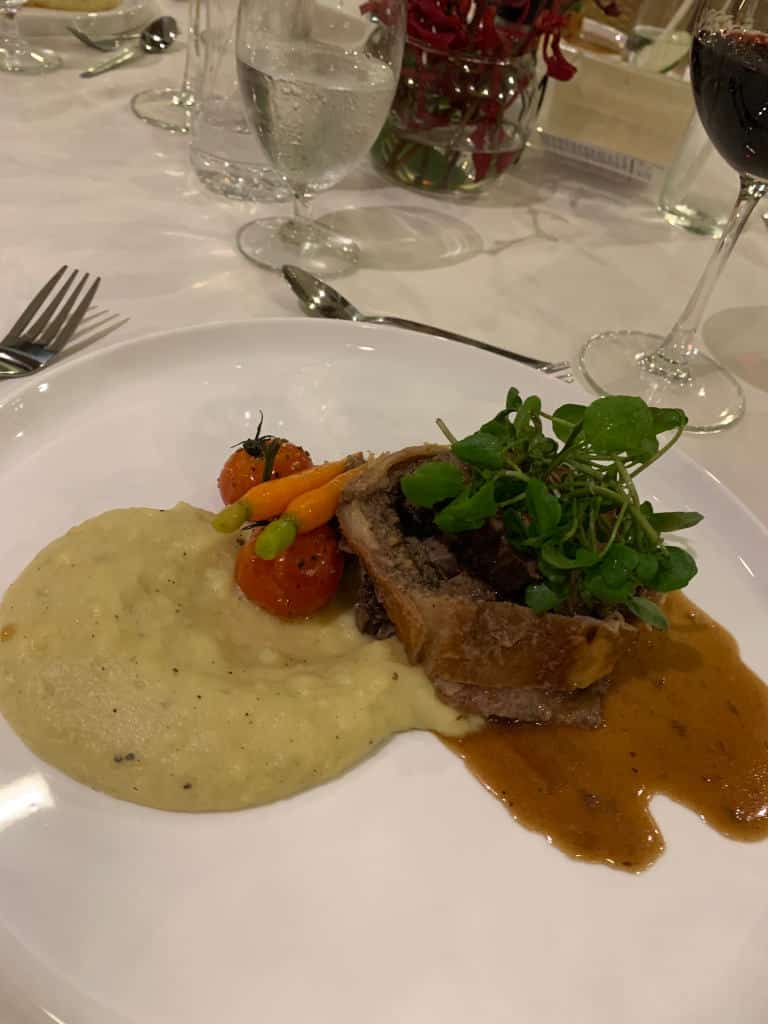 The Chef continued to surprise with variation and flavours and the Dessert Plate was a chocolate tartlet containing fresh fruits and sauces to entertain and refresh our palates. Perfect presentation and superb, balanced flavours that was accompanied by a Moscato Cavicchioli Demi Sec Moscato Spumante whose delicate notes and finish provided another perfect pairing.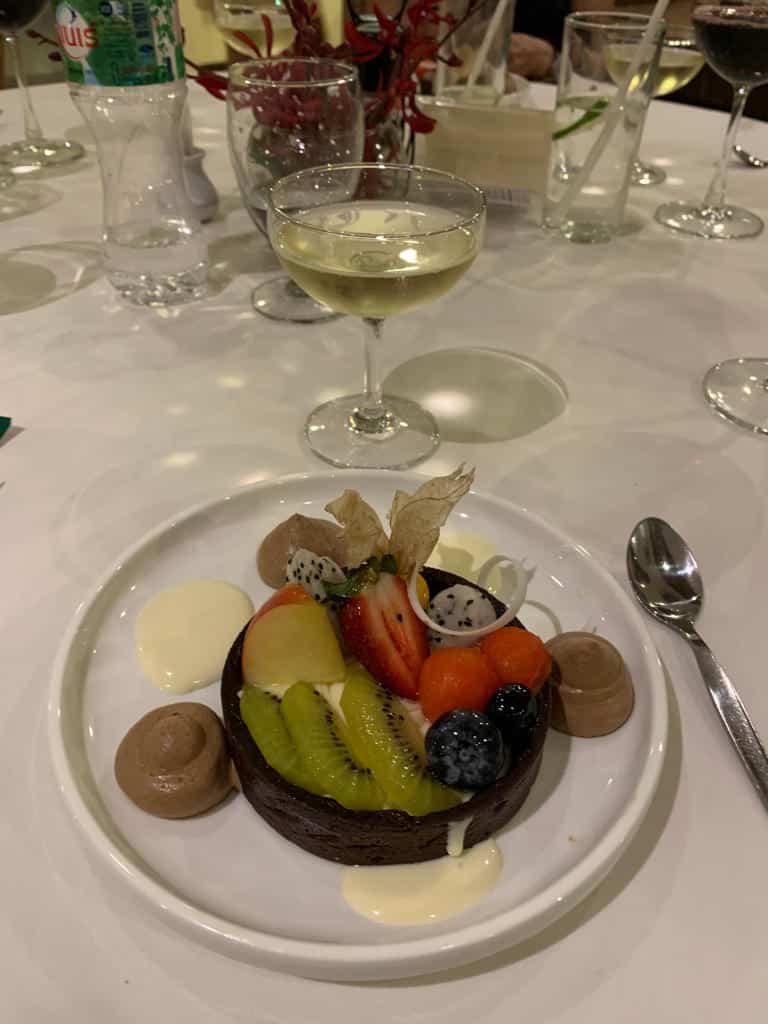 Congratulations to Executive Chef Kenneth Goessens and his entire kitchen team. Between them they not only produced an excellent menu but also flawless execution and perfect timing with none of the guests ever having to wait.
One must also congratulate the Maître D and his entire team. The service was excellent, attentive and always with a smile.
Congratulations to the Oasis Restaurant in the Thai Garden Hotel, Pattaya for an excellent meal, perfect wine pairings and perfect service!
Thai Garden Resort, Pattaya, Thailand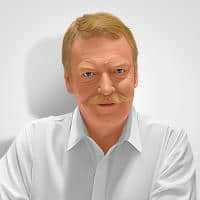 Kim Waddoup
Founder
Kim Waddoup enjoyed a lifetime in the tourism business and is an active 'Silver-Ager" living in Thailand. He writes for his age group with high varied articles covering subjects relevant to retirees living in, or visiting Thailand. Any questions or comments on this post? Please do feel free to contact me through our 'Contact Form' or directly [email protected]